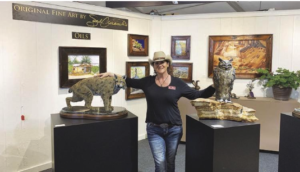 Artists come from near and far to participate in the Celebration of Fine Art. Special thanks to The East Valley Tribune for highlighting several artists from right here in our backyard!
"The Celebration of Fine Art transformed the way people experience art when it debuted in downtown Scottsdale nearly 30 years ago.
Now a linchpin in Arizona's art, culture and tourism scene, the show, which runs through March 24 and is considered the West's premier art show, hosts 100 of the country's top artists and sees nearly 50,000 visitors from around the globe each year.
Among this year's cohorts are three East Valley artists: Seth Fairweather of Gilbert, who specializes in glass and mixed media; Rob Stenberg, an acrylic mastermind from Mesa; and Sandi Ciaramitaro, an award-winning painter and sculptor from Mesa." 
Read the entire article here.