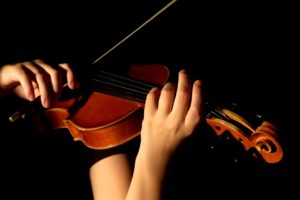 The opportunity for artistic discovery is not limited to paintings on canvas. Arizona's arts and culture scene is rich with a wide range of offerings. Wherever your interests may lie, there are concerts and productions that will inspire you.
When you're in town visiting the Celebration of Fine Art, we recommend you also make time for a few of our favorite local organizations:
Scottsdale Center for Performing Arts
A quarter million visitors attend Scottsdale Center for the Performing Arts every year to see a wide range of program offerings, spanning dance and music to theater and film. Programs run the gamut and include everything from Broadway classics to hilarious comedies and country and folk shows. See the Center's 2020 calendar of events here.
From classical to contemporary, Ballet Arizona showcases some of the most renowned choreography and innovative costumes and sets. This tradition continues with A Midsummer Night's Dream in February. Here, Shakespeare's tale will come to life with with endearing characters, mischievous fairies and mistaken identities. The whole family will be wowed by the enchanting sets and eye-catching costumes. Tickets may be purchased here.
Close to 200 concerts and plays have been produced since its founding in 1971, including opera's traditional repertoire, turn-of-the-century classics, and American operas. This year is no exception. January brings performances of the dramatic love story and what is described as "Puccini's timeless masterpiece," La Boheme.  Then, February features performances of Riders of the Purple Sage, which was Arizona Opera's first commission that premiered to sold-out crowds in 2017.  Now making it's highly anticipated return, opera lovers can get tickets here.
The Phoenix Symphony is Arizona's only full-time symphony orchestra whose works feed the souls of music lovers from every generation. Whether performing classics Beethoven, Haydn and Cerrone, or the energetic Music of ABBA, the Phoenix Symphony calendar of events is full of high-quality musical experiences. Find the concerts and events schedule here.
More than 130,000 people attend Arizona Theatre Company performances each year, discovering beloved and brand new dramas, musicals and plays. In February 2020, the company presents Athol Fugard's semi-autobiographical "Master Harold"…And the Boys, followed in March by the musical comedy The Legend of Georgia McBride. Find the entire schedule here.
—
Do you remember your first exposure to the arts? What are your favorite memories?