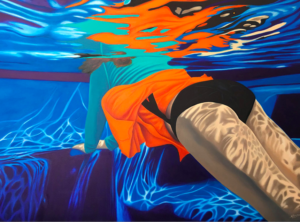 Artists are keen observers of the world around them, taking in shapes and colors and imagining how they could turn them into works of art. Priscilla Nelson is no exception. As an avid people-watcher, she discovered art as a child. In the beginning, she drew with pencils. As she got older, her supportive parents would gradually introduce new art supplies at Christmas and for birthdays.
Her passion for drawing stuck, evolving as time progressed. For more than 35 years, Priscilla has dedicated herself to her craft, exploring mediums including watercolor and acrylic. Today, she exclusively relies on oil for her one-of-a-kind paintings. And just as Priscilla's methods have changed over time, her subject matter has too –– now it's her figurative works created in a contemporary realistic style that people recognize her for. This includes most notably her focus on the intricacies of clothing and different textiles, illustrating how the movement of a blouse or flutter of a skirt can convey a feeling or mood.
"I am self-taught," Priscilla says. "No one ever said to mix things this way or do this line that way, so I've learned by trial and error."
Settling into one's own technique and style can take many years. Priscilla jokes when she began drawing hands, for instance, they looked like blobs with little sausages attached. It was the same when she found herself inspired by what people wear. She worked tirelessly to get fabrics to move on the canvas. While her process was intentional, one of the most recognized components of her work –– people floating or submerged in bodies of water –– happened entirely by accident one day.
"About 10 years ago my daughter, who was 17 at the time, was standing at the edge of our pool in a flowy dress," Priscilla smiles. "And, being the parent that I am, I pushed her in! And as she went under, I thought, 'Oh my gosh! This is it!'"
In that moment, Priscilla became fascinated by the untapped beauty in angles most people never see, and immediately began incorporating an underwater perspective to her paintings. Oftentimes this calls for jumping into a cold pool, but luckily, living in sunny Scottsdale means she enjoys warm weather and comfortable water temperatures most of the year.
"When I moved to Scottsdale, I wanted to support other artists and local events," Priscilla said. "I came to this show and what really stood out to me was the atmosphere. Not just between artists and collectors, but between artists and other artists."
The Celebration of Fine art is delighted to welcome Priscilla to the family. To learn more about Priscilla Nelson, watch her story here:
Artist Reveal: Troy Moody
Introducing the Celebration of Fine Art's Office Team