Last week we introduced you to our wonderful office team! This week we're excited to highlight the cafe team, including Kathleen "Kathy" Thorpe, Amy Connolly and Samantha McLain.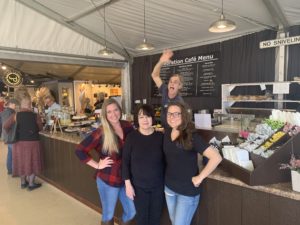 These gals never miss a beat, serving up everything from hot cocoa to your favorite cabernet –– all from the center of our big white tent! If you've ever wondered what it's really like to work at the Celebration of Fine Art day in and day out for 10 whole weeks, here's your answer:
How long have you been a part of the Celebration of Fine Art?
Kathy: I'm really proud of being here for 20 years. We started with a card table, pretzel machine, and maybe five items. It's incredible to see how far we've grown.
Amy: I've basically grown up here –– I've been helping out since I was 15 years old.
Samantha: This is my second year!
Are you a coffee or tea person?
Kathy: Tea. I like strong, green tea with cream and sugar or honey and lemon.
Amy: Both. I was a barista in Portland, so I've come to appreciate both. I really love English Breakfast Tea with cream and sugar.
Samantha:  Both, because it depends on my mood. But I typically start my day with coffee.
What's your favorite item from the menu?
Kathy: The DaVinci Sandwich and the Mosaic Salad are my favorites. Our entire menu is fresh to order, so there's a lot to choose from.
Amy: The DaVinci Sandwich on rye bread.
Samantha: The Southwest Chicken Salad.
Do you have a favorite memory you've made at the show?
Kathy: Last year was my 65th birthday and the artists and crew surprised me with a party. Overall, I've made wonderful friends that I talk to throughout the year. It's the best job I've ever had because it's a happy environment. The artists are amazingly in sync. There are some that are so captivating and funny. They are also a very generous group. There have been times when members in our community need extra support, and when that happens, we always come together to help them in some way.
Amy: My relationships with other artists. I have a lot of solid, very true friendships with them. It's not uncommon for us to travel together. I also love my bosses –- Jake and Susan are wonderful to work for. They are very involved and always willing to help, yet let us have our freedom, too.
Samantha: Meeting all the artists and getting to know them. We've all become like a family. Everyone is so kind. Even the people that travel here. I'm from Minnesota originally, so it's great meeting people from the Midwest. I also enjoy the parties and events we have.
What is the highlight of the show for you?
Kathy: The opening night because we get to dress up and mingle. It's catered, so we get to share our kitchen and then I end up learning something new from the chefs. And every day, there is something different going on.  I've learned so much by watching different artists.
Amy: Being with my mom (Kathy). We work together well and it's great to spend time with her as I tend to travel a lot after the show wraps.
Samantha: The people. Susan, Jake, the artists, Amy, Kathleen. As soon as we walk in the tent the first day, everyone has huge smiles on their faces. They love to catch up with one another. I also enjoy seeing how the artists' work has evolved from the last year and throughout the course of the show.
What topic would you like to see featured for the Art Discovery Series?
Kathy: I'm very intrigued by the sculpting, especially by how they spend so much time on the clay only to destroy it before casting it..
Amy: How to make money with art!
Samantha:  Something crazy and new so I can question how it was created and what inspired it.