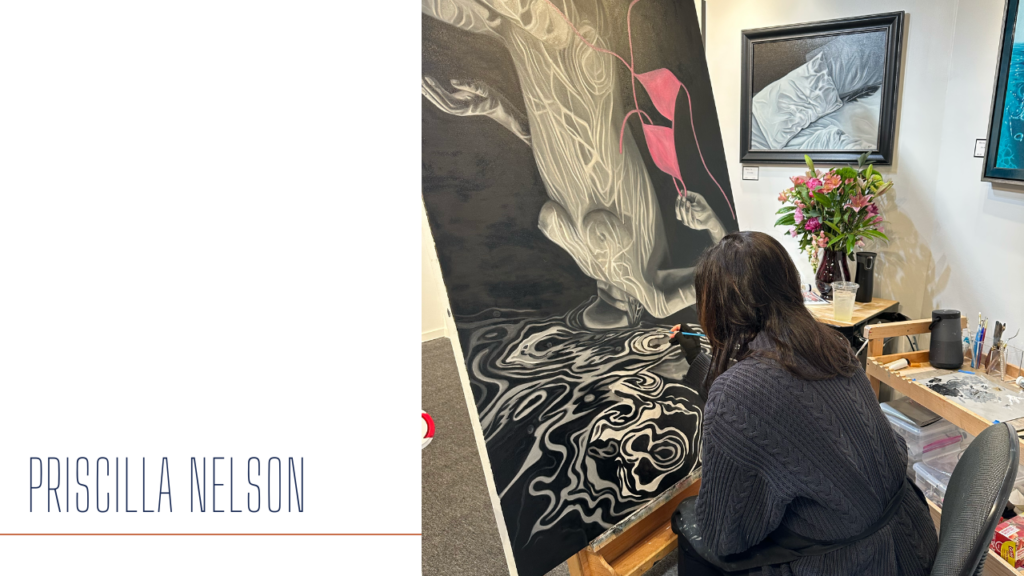 "This is not a dress rehearsal. This is your one and only chance."
Those words are what urged Priscilla Nelson to pursue art as a career. Before that, she was on the path to medical school, majoring in biology. Though she loved art and seemed to have a natural inclination for it, as a profession, it wasn't on her radar. But that day, that conversation, those words of advice from her dad, forever changed her trajectory.
Within months, Priscilla said goodbye to her previous pursuits and set her sites on making it as a fine art artist. Never one to back away from a challenge, she learned what subject matters were the most complicated to master and dove right in. She started with the hands and as she worked through the challenge, she realized she loved painting the human figure.
Though she experimented with other subjects, Priscilla kept coming back to the figure. She then decided to marry that with her other love: swimming. This kickstarted a series of underwater figurative pieces. And now, Priscilla is challenging herself in a new way––a series of black and white figurative works that emphasize reflection.
Read on or watch the video below to learn more about Priscilla and her new series.
When did you know art was your calling?
I was painting and drawing since I was a child, but I was a biology major in college and was thinking about medical school. And my dad––Mr. New York executive––talked me out of continuing the path to medical school. He thought I should be an artist. So from then on, that's all I've been doing.
I'm self-taught. The caveat with that is that there's always someone in our lives, as artists, that teaches us. I had an amazing art teacher in high school that gave me a strong foundation in drawing, and I continued building on that.
How has your work evolved?
This [referring to "Up Close" pictured below] is the last in a series that I started in 2015. I had sketched it but had never finished it. This year I decided to finish it and I noticed that my colors had simplified the whole process, but it is very complicated. There's a lot of movement.
And in my new series [pictured below], the body is the canvas. The body is reflecting the reflections of the water and I do one pop of color just to get that attention and that focus. But if you were to compare these two paintings, you see that the reflections have moved from the water and the background of clothing to the body. The body becomes the canvas itself, showing the reflections of the water. This new painting is all about the reflections and very little about the clothing or the color.
That's one of the things I love about art. I'm the kind of artist who likes to see a progression or my art evolving into something different. It's still the same subject matter, but there is change. And in my opinion, there is growth.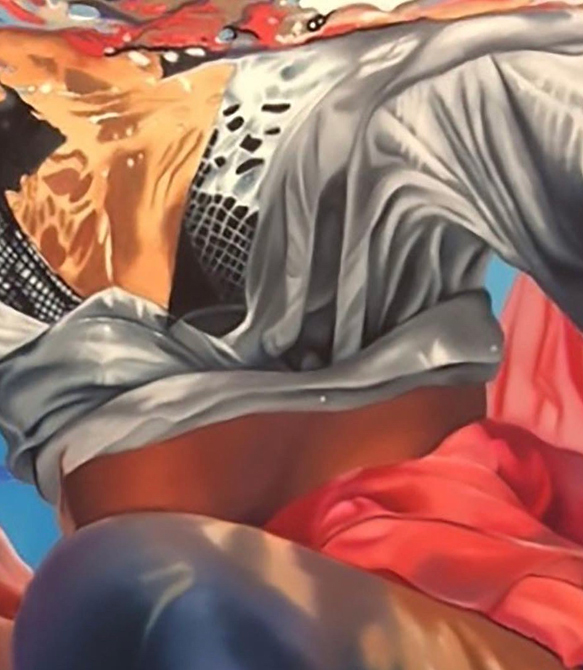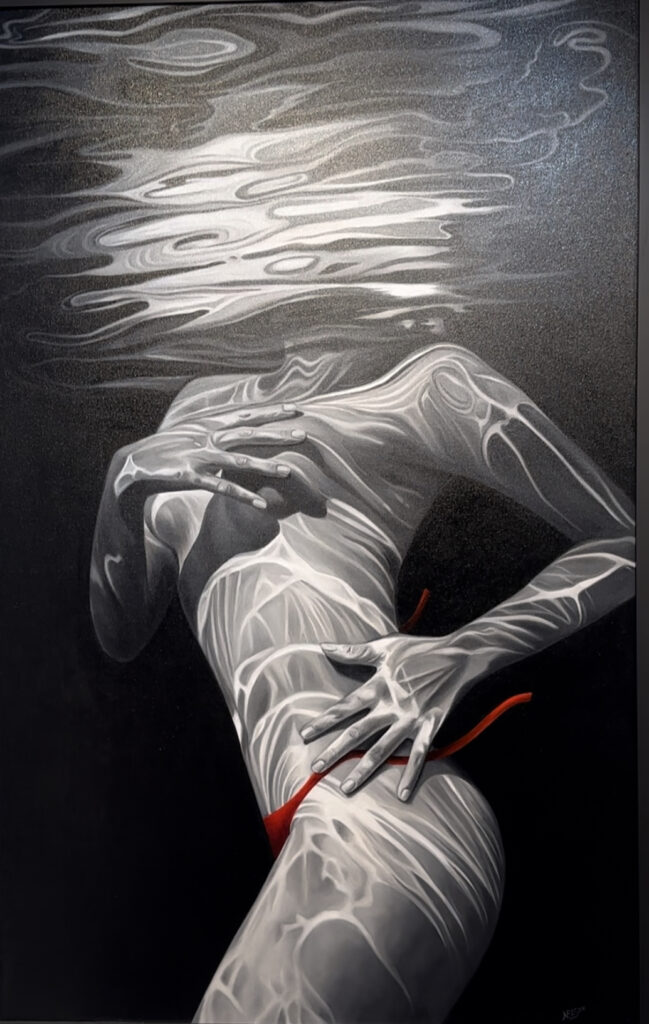 What keeps you coming back to the Celebration of Fine Art?
I say it's like art camp. A lot of these artists are professionally trained and went to school for it. I didn't. So I never quite had that connection to other artists. And what people maybe don't realize is, when we paint, it's very isolating. It's us in the studio. There's no one there. It's us and a paintbrush. It can be an antisocial profession. And what I love about this is the social aspect of it. I get to paint and I get to explain to someone the painting or process.
I love not only the artist here and their attitude. I've learned so much from them. But I also do really appreciate that the art collector or just the art lover––you don't have to buy––can come and ask questions and educate themselves. Especially when they walk the whole tent and they'll come back and say, 'I now realize what genre I like or what medium I like.' I think that it's really hard to find that nowadays where the artist can interact with the collector and we both can learn from each other.