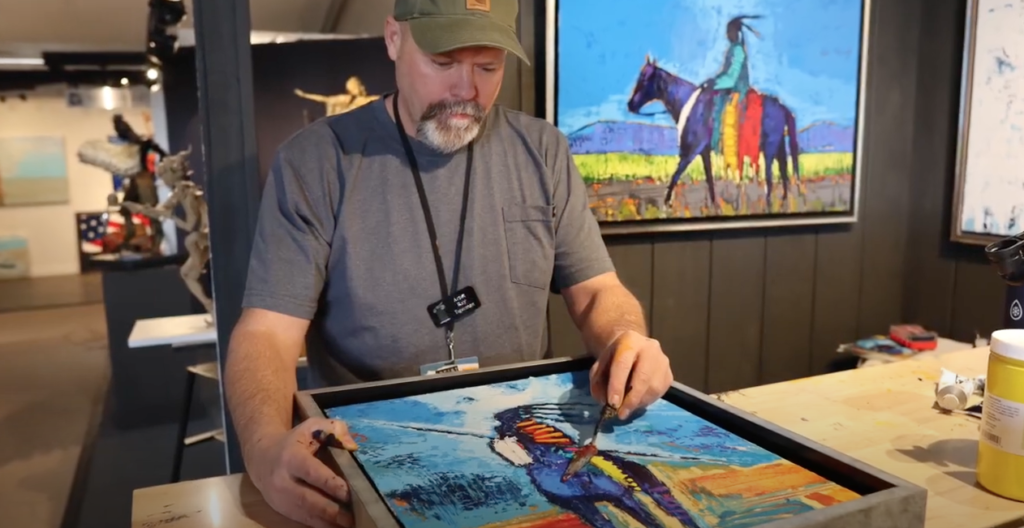 From Nevada to Nashville, artist Ray Tigerman has collected stories along his journey that have influenced his texturally rich and vibrant works that depict indigenous Southwestern people and wildlife. And while he purposely emits fine detail to allow the viewer to form their own story, the use of color and texture creates an immediate connection and somewhat immersive experience.
Ray's work has evolved over the years––and continues to––but his current style, which he uses a palette knife to create, he's been perfecting over the past 15 years. Most of his pieces, which he lovingly refers to as his kids, are shaped by the stories of his childhood. He grew up near the Paiute Indian reservation and one of his fondest memories was getting to hear the stories told by one of the tribe elders, which are valued in the community as teachers, keepers of knowledge, and transmitters of cultural knowledge.
Those stories stuck with him and now are transmitted through his own form of storytelling.
Read on or watch the video below for more of Ray's journey through fine art.
When did you know art was your calling?
When I was a kid, one of the things that I would love to do is kind of sequester myself in my room with a pad of paper and I just started drawing little doodles here and there. I think it was apparent pretty early on that that was my comfort zone…hiding out and drawing.
What do you love most about creating art?
When I was a kid, I got into watercolors. I really loved that early foundation of watercolors––positive and negative space. From there I kind of went more into drafting. As that evolved, I went into more of a photo-realistic oil painting style, which I progressed through college. Then I landed on my current palette knife style about 15 years ago.
I'd always used a palette knife as more of an accent. But, when I fully switched over, I never looked back. It seems to fit me more. It's more sculptural and it allows me to do a lot of different things that are visually interesting to me, like carving in creating different techniques.
What inspires your work?
I grew up in northern Nevada right across from a Paiute Indian reservation. A lot of my childhood friends were Native American and I got a really good indoctrination into their culture. One of my good friends, his uncle was an elder. We'd go over to their house and his uncle would regale us with these really mystical stories. It really resonated with me, not necessarily the fantastic element, but, the way that the Native Americans lived and their synergy with the earth. They had a culture that really was interested in preserving the elements that allowed them to survive–– it is a really symbiotic relationship. And so, as I got older, it never really left me.
What challenges you the most about your work?
Trying to stay fresh and original. When you're a professional artist and you're producing work, keeping it interesting and different and fresh, is always a challenge. You don't want to be on autopilot or produce a variation of the same image over and over. I want to explore. I want to have fun with it. And I want my collectors to have fun with it. So, I think that's probably the most challenging to do. And it's a challenge I'm always up for
What do you love most about creating art?
Being a professional artist means something different to every artist. For me, I get to create things out of my head and then I get to share them with other individuals who get to live with them. I always call them [artworks] my kids that I adopt out and it's so rewarding.
What do you hope your work inspires in others?
A fellow artist once said to me that a collector or a potential collector will bring themselves to your work. And I love that idea. So, my goal is to create things that I think are both aesthetically interesting and yet thought-provoking. I purposely don't put fine details on "my kids" and my subjects because I want them to have the ability to tell a story that is not necessarily one that I'm telling. I want the viewer to get lost in it and come up with their own connection to it. And I think sometimes if you're very literal with your subjects, you're kind of forcing your audience, to feel what you feel. There's nothing wrong with that, but I like that idea of mystery, maybe a little nostalgia or a journey. A lot of my pieces, have a journey-esque feel to them.
What drew you to the Celebration of Fine Art?
This is an amazing show, and you're surrounded by, in my opinion, the most talented artist in the United States and beyond––here under one tent. You get to meet fellow artists. You get to meet new collectors. You get to engage with customers constantly and potential customers. It's fun.