Sundie Ruppert and her husband Brad have been experimenting with found-object art for decades. A fortuitous commission for signage at a hat store opened a new door for the Rupperts to explore working with the discarded felt remnants from the brims of cowboy hats.
In exploring this unconventional medium, the Rupperts have unlocked layers of meaning and purpose. From developing new artistic techniques for felt remnants to uncovering practical and therapeutic applications for their pieces, and even helping a century-old hat shop create a nearly zero-waste business, Sundie and Brad have gained so much by working with the once-discarded felt scraps.
Sundie shared the history of their work, and the plans she and Brad have for the future as they continue to discover new benefits of this surprisingly versatile medium.
Why did you choose this medium?
My husband Brad and I have been found-object sculptors for over 20 years. We transitioned out of corporate America following the dot-com bubble and stumbled into art through our son's second-grade family art project.
We crafted a turkey from vintage ceiling tin, an oil can head, and watch-face eyes. When our son turned it in, the phone began to ring and we took five orders. Suddenly, we found ourselves on a new path.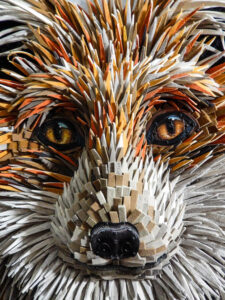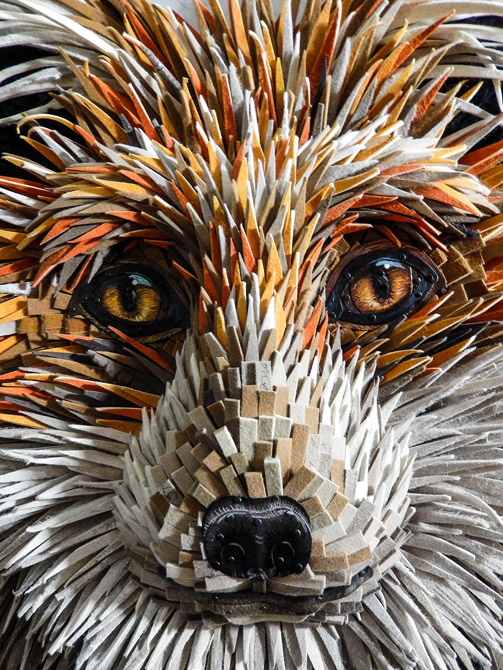 We began to see everything for what it could be, rather than what it was. A concrete trowel became a face. Golf clubs were horse heads. We traveled across the country seeking out novel objects to create our pieces. Some were old trinkets scavenged from roadsides, others were treasures found in nature. But they all came together to create our quirky and inspirational characters.
As our business grew, we found success in the western industry, creating horses, bison and cowboys from our collection of objects. A client's commission for a new store sign led us down the trail to custom, hand-carved signage, and one of those signs opened the front door of Greeley Hat Works.
While we were installing the Greeley sign, we asked owner/master hatter, Trent Johnson about how hats were made. We took a behind-the-scenes tour and noticed that simple felt rings were being discarded. They were nothing more than the outlines of circles –– a tiny band of soft material –– headed for the trash bin but their texture and Brad's drive to rescue objects drew him in.
The rest, as they say, is history. We began working with Greeley Hat Works in 2014 and they haven't disposed of a scrap of felt since. We've created hundreds of pieces of art by rescuing thousands of pounds of the felt remnants. In the process, we've helped to make Greeley Hat Works a nearly zero-waste business.
What challenges you most about this medium?
There's not much there to work with. It's essentially the outline of a circle. We aren't starting with big sheets of material. When Brad first asked Trent about what happens to the felt, I thought, "What in the world are you thinking of?"
We were looking for something different and were ready to move on from the found object artwork we were doing. We've always worked as a team, and I was hesitant about the felt at first, but Brad was the one who had a vision and wanted to bring the material home and see what he could come up with.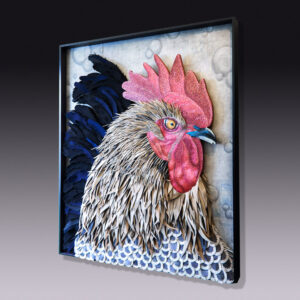 He started working with it, and we did a crow and a rooster, and I was tasked with creating a face and an eye because he couldn't get much detail with the felt and we needed a way to cover up the last row of nails. The eyes are always a challenge. They are so expressive and I want them to match the integrity of the rest of the piece, so I developed a process in which I layer painted metal pieces to emulate the multiple layers of felt.
What do you love most about this medium?
There are so many things about it I love. We're texture people. I love the texture. I love that it's flexible and very sustainable. The fact that it can be so many different things starting with virtually nothing –– the versatility of what it could become.
For the first few years, we did all things neutral because that's the color of material we had access to. We were reliant on the store's hat orders which primarily come from cowboys, but thanks to the cowgirl rodeo queens, there was a little color thrown in here and there. It was hard to plan and do anything colorful on a large scale so we started small and then spent two years figuring out how to dye the felt.
By dying everything from buckskin to black felt, it expanded our color pallet tremendously and has enhanced our ability to create highlights and shadows.
How are you using this medium that might be different from most?
For one, we're creating home decor out of it and our layered approach is truly unique. We've got all these unusual materials for people who are looking for something other than a painting, and we blur the lines between wall art and sculpture.
We've always thought about the tactile qualities of our work, and there are a number of values to it. We've spoken with collectors and friends about how loved ones with autism or those who are vision-impaired can enjoy interacting with our pieces. We even invite people who come into our booth to touch a sample.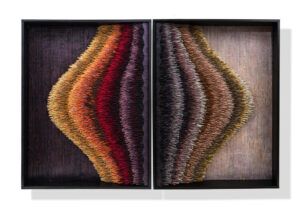 But when someone asked us about it being used for a sound dampening project, I felt like a cartoon character with a lightbulb going off over my head. Our works can be used in homes or public spaces to change the acoustics of a space and create intimacy in cavernous rooms.
Someday, we'd love to do a large tactile installation piece where the purpose is to be interactive, both in terms of touch and sound. One thing we know for sure is that by innovating a new type of sculpture, the possibilities are endless and the opportunity and location to create are surely just around the corner.