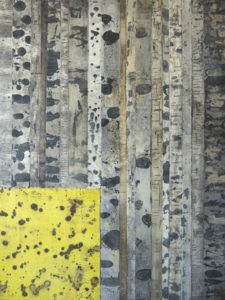 Ask artist Kathleen Hope what her primary medium is and her answer might surprise you. Cement, she'll respond. It's organic, raw and unpredictable –– a lot like life.
Based in Fountain Hills, Arizona, this will be Kathleen's fifth year showing at the Celebration of Fine Art. Over the years she's developed a dedicated following, but few may realize her path to becoming an artist was anything but linear. Kathleen initially started out in interior design and color psychology. In the early 2000's, she began painting for fun. Seven years ago she finally discovered her niche, fusing her love of art and architecture by turning to a unique mix of cement, mixed media and encaustic wax to create contemporary and textural pieces.
"I love the physicality of cement," Kathleen said. "When mixed with other additives it is like cake batter consistency. It is like playing with mud when you were a kid. It is messy but so much fun to pour and carve."
Today her portfolio includes interior and exterior pieces, some large scale, which include themes like circles, stripes and grids. She believes her art should feel "lived in," supporting emotions as they change.
Each year, Kathleen looks forward to new friendships, laughter and creative inspiration at the Celebration of Fine Art. She says the show gives her the unique opportunity to hear feedback from collectors and artists, and the chance to build upon it. Kathleen's art is ever evolving –– a lot like life.
Get to know Kathleen Hope:
Favorite artist? Richard Diebenkorn
Music/Musician that inspires you? Because of my love of dance, probably Neo-Tango, Big Band and Salsa.
Favorite place to travel? San Francisco and Spain.
Favorite Quote/Mantra? "Life isn't about finding yourself, it is about creating yourself." -George Bernard Shaw
If you weren't an artist, what do you think you'd be doing? I would be a sculptor or professional ballroom dancer.