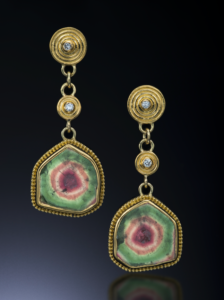 Paul Farmer designs and creates timeless jewelry, meticulously handcrafted using vibrant colored gemstones set in high karat gold. He has an ability to fashion rubies, pearls, aquamarines, diamonds, among other fine gem into dramatic, head-turning statement pieces that are nothing short of exquisite.
"I love working with vivid colored gemstones," Paul said. "I'm inspired by the stone to create the perfect design to enhance the beauty of the stone without taking away from it."
Paul designs each piece around exotic colored gemstones using the ancient gold fusion technique of granulation, where each surface is covered in granules of precious metal. A recent watermelon tourmaline pendant and its matching ring could as easily have belonged on display in a museum or worn during a special evening out on the town.
Thanks to that rare and sophisticated versatility, Paul's jewelry has amassed steadfast fans captivated by his intricate designs. Connecting with those collectors and jewelry lovers in person is one of his favorite aspects of the show.
"I look forward to the interface between the artists and patrons, and being able to share my inspirations and art," Paul said.
Get to Know Paul Farmer
Favorite artist? John Singer Sargent
Music/Musician that inspires you? Allman Brothers Band – a true mix of Rock, R&B, and Jazz
Favorite place to travel? Spain and Colorado
Favorite Quote/Mantra? "Learning never exhausts the mind." -Leonardo da Vinci
If you weren't an artist, what do you think you'd be doing? I owned a musical instrument store for 14 years, so I would most likely be involved in music in some way.