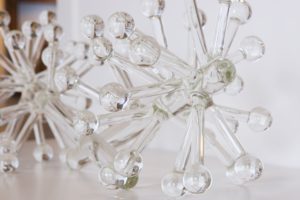 In 2017, the Celebration of Fine Art invited contemporary glass artist Caleb Siegler to join the show. As a newcomer, visitors and collectors were delighted by his innovative works and being able to watch as he expertly (and artfully) reshaped seemingly ordinary glass rods into brilliant art. It was common for visitors strolling past to pause and watch when they caught sight of Caleb standing over 2,500 degree heat, hyper-focused on creating his latest piece.
This year, those moments of discovery are sure to continue, but with a whole new twist on his style. Caleb said his process of creating blown glass and fabricated steel artwork has changed drastically in the last year.
"Previously, I would try to make the most complex and technically challenging single object I could by 'hot attaching' as many components of glass together in the fire to make one large object or sculpture," Caleb said. "Lately, I've stepped back to try to absorb and understand more about what it means to simply look at glass as a material in its raw state."
As he expands his repertoire, Caleb finds joy in new challenges. He said many of his latest wall hangings consist of 20 to 50 individual components. But even though his work can be repetitive, Caleb finds it meditative. He is currently working on a chandelier that requires 189 individual components of glass.  
"What I love most about working with a material that requires an excess of 2,500 degrees Fahrenheit to melt is how it forces you to be present," Caleb said. "It forces me into a flow-like state. The molten glass in my hands feels almost like an extension of my body when I'm really grooving."
Get to Know Caleb Siegler:
Favorite artist? My favorite artists in the glass realm are Lino Tagliapietra and Martin Janecky. I have always been inspired by the photography of Robert Frank.
Music/Musician that inspires you? I am an avid Pandora Radio explorer, so a lot of the time I'm not even certain what music I am listening to. A few of my all time favorites are Bob Dylan, Explosions in the Sky, The Avett Brothers and Frank Sinatra.
Favorite place to travel? My favorite place to travel is hands down the Oregon coast in the spring or late summer. Cannon Beach is where I honeymooned with my wife. It has been a special place for us ever since.
Favorite Quote/Mantra? "The price of greatness is responsibility."
If you weren't an artist, what do you think you'd be doing? If I wasn't an artist, I have no idea what I would be doing or who I would be. I'm sure I would be a person that got a lot more sleep, but I also feel like I would never be satisfied. In more ways than I can list, art has completely changed my life, my personality, and my path. Perhaps I would have taken after my father and been a chef.