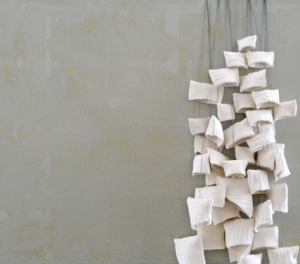 Jodi Walsh is a creator of beautiful objects, including folding clay and hand-built ceramics. Inspired by the endless possibilities of fashion and design, Jodi's work is also deeply influenced by her extensive travels. Much of the time she is influenced from places she's lived, such as Taiwan, Thailand, Japan, Hong Kong, Pakistan, Bangladesh, Europe, Africa and England to name just a few.
"Each country had its own sense of style and cultural way of life," Jodi said. "My work is calming and very minimal because of my travels."
Today, Jodi's art remains diverse in scope and multifaceted in nature. She is not contained by size, with pieces ranging from several inches to large wall installations with thousands of supporting pieces. While Jodi has worked with various mediums over the years, her primary form is clay. She keeps her palette to mostly neutrals.
"I love the entire process from the first hint of inspiration to the completed piece," Jodi said. "I am at my best when I am creating."
New to the Celebration of Fine Art, Jodi looks forward to see how her unique style and materials will be accepted in the Southwest. No matter what, she knows being a part of the Celebration of Fine Art is precisely where she belongs.
"I was encouraged to see the show so we visited last year," Jodi said. "About halfway through I knew it was a fit. I also liked the family feel of the show from the people who worked there to the artists I met."
Favorite artist? Rothko, Louise Nevelson, Ani Kasten, Judit Vargas
Music/Musician that inspires you?  Anything from Willie Nelson to Bruno Mars.
Place to travel? Taiwan, England, Africa
Favorite Quote/Mantra? So-Hum, meaning "I am."
If you weren't an artist, what do you think you'd be doing? If I wasn't an artist, I would need to work outside in nature.