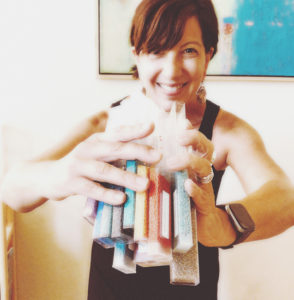 Diana Ferguson is a jeweler known for embracing bold, graphic designs to create whimsical, lightweight earrings, bracelets and more out of metal, paper, resin, glass and beads. Her work, which strikes a balance between feminine and fun, is often described as colorful conversation starters. 
For years, much of Diana's inspiration for jewelry stemmed from her interest in fashion and pop culture. But lately, she has become captivated by the mysteries of the universe and how to translate that fascination into pieces of art people can wear.
"While I was working in the studio this summer, I spent a lot of time listening to PBS and BBC documentaries about physics, the planets in our solar system, and the universe in general," Diana says. "I was totally inspired by the beauty, mysticism and magic of the world we live in. The bottom line is that it's a game of chance and of faith." 
In the same way the universe is full of the unexplained and unexpected, Diana delights in embracing those qualities and working those themes into her pieces. She's even found herself more willing to think outside the box and take more risks. 
This January, visitors can expect to see Diana's new creations come to life. She's exploring new mediums, like polymer and contemporary geometric beadwork. And while these are a departure from the artistic style she's honed until now, the serendipitous pops of the unexpected remain quintessentially Diana.
Speed round:
Favorite artist? There are a few! Nora Noranjo Morse, Anita Fields, Roxanne Swentzel, Rose Simpson, Agnes Martin, and of course the inimitable Georgia O'Keeffe. 
Music/Musician that inspires you? I work best to Cage the Elephant, Alice in Chains, Soundgarden, Red Hot Chili Peppers, R.E.M. and Sheryl Crow.  
Favorite place to travel? Santa Fe, New Mexico. 
Favorite quote? "Put a pin it." Kidding! Right now, my favorite quote is, "Done is better than perfect." Perfection is an unattainable ideal. By striving to be perfect before putting your art into the world, you miss out on a lot of growth opportunities. 
If you weren't an artist, what do you think you'd be doing? Writing, definitely. 
What's one thing you'd like people to take away from your art? Art jewelry is a great way to express your style, your perspective and your joy.