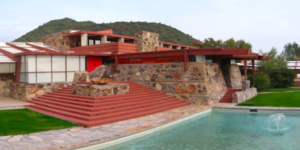 Regardless of whether you are visiting or you're a local, there are places, activities and adventures to be discovered in the Valley. Dubbed "The West's Most Western Town," Scottsdale is home to hundreds of restaurants, shops, outdoorsy activities, art galleries and museums. As we approach the 30th annual Celebration of Fine Art, several participating artists share their favorite things to do around the area:
Museums and Attractions
Aside from the Celebration of Fine Art, there are a number of arts and cultural experiences that should be included on your itinerary. One such stop is Frank Lloyd Wright's Taliesin West. Take a guided tour at his winter home, which also houses the famed architecture school. Another iconic art venue is the Heard Museum. Located in downtown Phoenix, it is renowned for its extensive collections of Native American art and artifacts ––a must see for an education in Arizona history.
Sculptor Curt Mattson recommends the Scottsdale Museum of the West, which highlights "the people, places and events of the 19 states of the American West."
Painter Leslie Duke says, "I love visiting the Desert Botanical Gardens throughout the Celebration. As a painter of flowers, it's really inspiring to see the desert bloom."
Additionally, glass artist Troy Moody suggests a visit to Cosanti, the home studio of renown architect and philosopher Paolo Soleri.
Outdoor Activities
Options for exploring the outdoors are as vast as the desert sky. For starters, there's over 200  golf courses to choose from. But what Celebration of Fine Art artists really rave about is hitting the trails. Scottsdale and its surrounding communities enjoy extensive pathways that criss-cross the Valley.
The McDowell Sonoran Preserve offers easy, moderate and challenging hikes through a variety of terrain. The views alone are worth the trek as you'll get a bird's eye view of  Arizona's famous sunrises and sunsets. For something more fast-paced and educational, a number of companies provide Jeep and ATV tours where guests can learn more about the geography, plants and animals of the region. To mark an extra special occasion, consider a balloon ride to take in the landscape (the pilot toasts the landing with prickly pear champagne!).
"My favorite things to do around town would be hiking at Tom's Thumb, having picnics at local desert parks like McDowell Mountain Regional Park or Cave Creek Regional Park," says Leah Rei, a painter who will be participating in the Celebration of Fine Art for the second straight year.
Fine Art photographer Matt Suess echoes Leah's sentiments, saying, "Whitney and I love walking in the desert with our dogs, and enjoying the plants, animals, and scenery of the Sonoran Desert."
Shopping and Dining
The Valley offers an eclectic mix of shopping and restaurant opportunities. Scottsdale Quarter, Kierland Commons and, the farther off Biltmore Fashion Park combine upscale local and national retail brands in outdoor, airy settings. Old Town Scottsdale is comprised of chic boutiques, local restaurants, jewelers and galleries. And while there, be sure to stop by any one of Old Town's tried and true restaurants, including Cafe Monarch, Citizen Public House and Barrio Queen
The possibilities beyond the Celebration of Fine Art in Scottsdale and around the Valley thrill even the most tenured artists.
"In having a family that lives on the East Coast, they always get a kick out of the fact that whenever they ask where a particular place or activity is located, my answer is always, 'It's just right down the street,'" said resin artist Hannah Friel.
For a comprehensive list of things to do in Scottsdale, visit Experience Scottsdale.
What are some of your favorite things to do in the Valley?