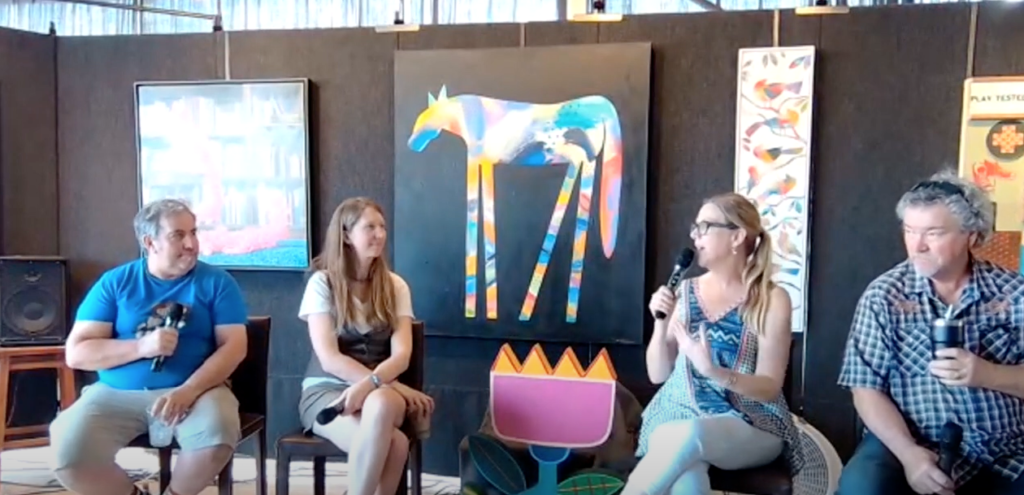 Picture this: a grand reading room with hot pink cats that at first glance look more like a pair of feathered boas. Or a totem pole stacked high with relics from your childhood like a potato chip bucket, Sylvester the cat mug, and Mickey Mouse. These are just some of the ideas swirling through the minds of the artists in this week's Art Discovery who use their art to tap into the silly, nostalgic, and playful sides of life.
Timothy Weldon grew up in a large family and his home was filled with music, theater, dance, and art –– and it's safe to say, many of these have made appearances throughout his career. His early career found him in the music industry as a sound engineer for leading artists but when his recording studio business started to decline, he turned to painting as his therapy.
Citing Robert Rauschenberg, Louise Nevelson, and Jean de Buffet as his inspirations, Timothy's mind was already brimming with experimental expressions when he took to creating art. In his sculptures and paintings, nearly every type of media is a viable candidate––canvas, reclaimed wood, vintage signs, doors, and yes, Sylvester the cat mugs. He then layers on mediums like paint, sand, and found objects. The result is pure joy, nostalgia and the memory of a simpler time.
"The treasure hunt is the best part of this journey," Timothy said. "It's where the magic happens. You're living your life but you're also more aware of your surroundings and everything becomes brighter and more in focus."
Leah Kiser also looks to capture those feelings of joy and whimsy that are so often associated with childhood. She grew up drawing and was trained as a sculptor but found herself painting following her urge to create large-scale colorful pieces.
"I wanted to paint something that I would want to see at an art show," she said. "Something a little different. Something like what you would find in a children's book but with a lot of detail and using the technical ability that I gained."
Her first piece was inspired by one of her daughter's toys: a plastic dinosaur in a doll's tutu. Leah created several pieces which were met with great interest and thus, her signature style was born. Leah expertly showcases her skill through the backgrounds of her paintings featuring great depth and detail but ultimately captures the viewer's attention through an impossible subject like pink feathered cats.
The childlike fun these artists tap into to create their work inevitably overflows into their personalities and daily lives which is certainly the case for Terrell Powell. For over two decades, Terrell worked as an illustrator, known for the jets he painted for Southwest Airlines. It was work he enjoyed, but ultimately found the freedom to express himself more authentically through abstract art.
"I think that's what people are drawn to in my work is the energy that's in there," he said. "I can't replicate it any other way. It's the spontaneity and the looseness that people are drawn to."
Terrell's joy and energy in his art are as insatiable as is his desire to share it with others. He reveals an alter ego in this Art Discovery. You'll have to watch to find out!
See the full Art Discovery here:
Timothy Weldon
Leah Kiser
Terrell Powell