Art is a powerful communication channel. Whether the intention of the artist or not, art communicates messages that transcend time and place, and resonate for every viewer in very different ways. While every viewer has their own unique experience with a given piece of art, it still somehow manages to connect people no matter their background.
That was something Australian-born artist Pete Tillack came to realize through the evolution of his work. Though his initial intention was not to use art as a communication vehicle –– it was a bit of a therapeutic exercise during a tough time in his life –– he found the values and thoughts he shared in his pieces through symbolism served as a powerful connector.
It opened the door for conversations with viewers, which helped him to see that so many of us face struggles each day. Finding common ground when facing a hardship makes it easier to carry on.
Today, he aims to create pieces that are imbued with meaning and inspirational messaging. He invites viewers to enjoy the journey of life and to continue striving for greater happiness and purpose.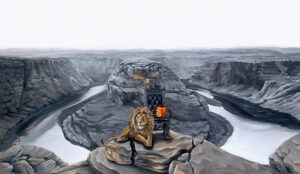 In this one-on-one, Pete delves into the symbolism in his artwork and his unique multimedia approach to sharing its significance with others.
Why have you chosen to use your art to communicate a message?
When I started painting this series of work, it was not an effort to communicate, but more of a release for me during a time of great frustration and anxiety as I was trying to find my footing in a hard time of my life.
The first piece I painted was going to be a self portrait based on a photo I had taken. The image was captured during my travels, where I placed a couch on a train track, then took a series of timed photos of me sitting on it in alternate positions.
During the painting process, I felt it more powerful to remove my image from the piece, but have my values and thoughts in it using symbolism that was not directly in your face.
When I explained the premise behind the piece, I had no idea how much that would connect with the viewers, and it opened my eyes to the fact that, as alone in our own emotions as we can sometimes feel, others are going through very similar thoughts and questions.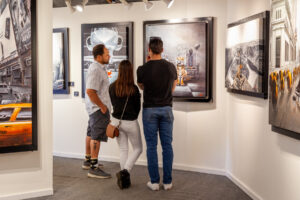 Life is full of emotions with challenges, and in order to achieve personal goals, there are many hurdles we have to jump, which can also create stumbles. The burden may not be shared at that time but there is some form of solace knowing others are feeling the same way and having similar self doubt or questions and are able to push past to gain momentum.
What do you hope your messages and your art evoke in people or what action do you hope it inspires?
A connection, understanding and motivation –– between myself and my collector/viewer, but also between the collector/viewer with an understanding the road less traveled has actually had considerable traffic. Very few stories have been written about someone with a comfortable life.
Do you feel art is a powerful medium for communicating messages? If so, why?
Actually, I feel music is one of the most powerful mediums to communicate a message and instill emotions, but I never had the patience to learn an instrument. Somehow, though, I found the drive to teach myself to paint.
My messages are not necessarily clear when you see my work. I am not trying to force a tone or thought down someone's throat.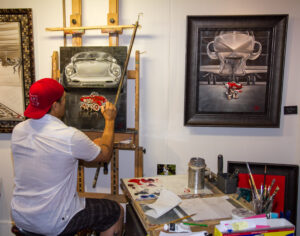 There is a lot of time taken to place and hide symbolism throughout my art when creating a new piece, yet it is the layout and appearance that carries a strong weight, as first appearances mean everything. Without connecting visually, it makes it hard to connect on any other level.
I understand my art alone may not clearly communicate my thoughts and direction, so I try to create a video for most of my work to help explain the symbolism, almost like a guide or song that comes with the piece, and is an art form in itself.