Some individuals are just hardwired to create art and it seems to pour out of them from an early age. That was the case for Suzy Almblade, who, alongside her twin sister Roxanne, has been drawing for as long as she can remember. The two would teach each other new techniques and encourage each other as they grew up, continually deepening their passion for art.
Suzy eventually found her way to illustration and oil, which she studied in college. But as she would soon find out, these were mere junction points on her path to watercolor. Through watercolor, she found her voice and a medium that allows her a bit of spontaneity.
Today, Suzy is a celebrated watercolor artist, painting inspirations from her local community––primarily horses and Western landscapes. When not painting, she also teaches watercolor at a local community college. And in many ways, she feels like the Celebration of Fine Art will become her classroom of sorts. "When one person is creative, it creates an atmosphere. And when you breathe that in, suddenly you have the urge to be creative too."
Read more about Suzy…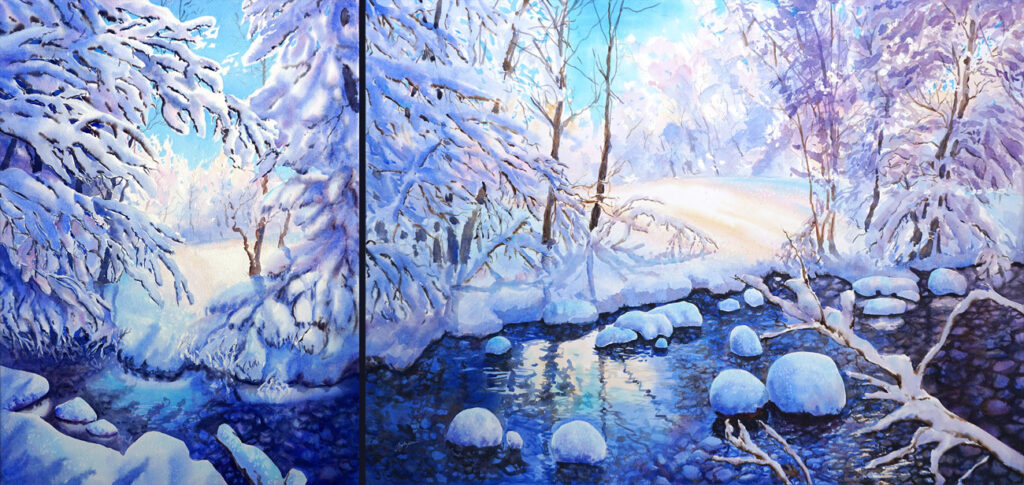 What first sparked your interest in watercolor?
During my junior year (of college) I had a big project that was due the next day. Oil was my favorite in college, but I knew it wouldn't dry in time and I didn't want to have to worry about hauling that to and from class. So, for that illustration class, I got a giant sheet of watercolor paper and my watercolors from a long time ago, and completed that painting within four hours. It was a big piece––18" by 24" or larger. But when I completed it, I was so proud of it and thought, 'Maybe there's something to this.'
Then I took a trip to Italy as part of an "Arizona in Italy" program in which 80 teachers and students from U of A were transplanted in Orvieto, Italy (which is between Florence in Rome) for a month. We were there to study, so some people were there for architecture or math, but most of us were art students. I had watercolor and disegno (drawing), which kind of go hand in hand. It could have been a combination of the food, the environment or my teachers, but I've been painting with watercolor ever since.
How old were you when you picked up your first brush?
I think it's kind of gone down our family line. I have a grandmother and my grandpa who painted with the oils. And further down the line, were all craftsmen on my dad's side. It goes all the way back that far. So, there's creativity in our family for sure.
My sister (Roxanne) and I kind of encouraged each other. We started noticing we did more drawing than the other kids our age in first grade. We kept encouraging each other and were each other's inspiration and teachers. So when she learned something, I'd go how'd you do that? And she'd show me. And then if I learned something, vice versa. I probably wouldn't be as good as I am today if it wasn't for my sister.
What is the most rewarding thing about your work?
Completing a painting is always really exciting. A lot of times with oils and acrylics, you can just keep working it, but if you mess something up with watercolor, it's more spontaneous. You can either accept it as a happy accident or you have to start over, but a lot of times if you let the water do the work you'll be very surprised––it can have a mind of its own. It'll show you things that you never expected. It's a lot of fun.
What is the most challenging?
Stopping myself from being a perfectionist because I have that illustrator background. Especially with digital arts and oil, it would allow you to continue working and working. But then I realized I was stressing myself out because I'd spend a whole month on a piece and it still wouldn't be as good as I wanted it to be.
But with watercolor, it forces me to stop because if I keep working it, then I'll muddy the piece or I'll ruin the piece. So, it's harsh in its lessons, but it's also very kind in telling you to stop.
Has your work evolved over the years?
Before I was very interested in people. Learning how to paint the human figure was my main focus because it was such a challenge and it still is. But I've gotten to a point now where I'm happy with where I currently am with people and the new challenge is horses. I'm now in an area that's out in the country and I figured I might as well paint what is around me. My art has gone from being landscapes, fantasy and people to being more country and Western landscapes. It's really fun to paint everything around here because we actually have trees and there are horses everywhere. I feel like I've finally gotten good enough at horses, so now I'm putting figures on the horses and in the landscapes, and trying to get some nice dramatic lighting with watercolor.
What drew you to the Celebration of Fine Art?
For growing up in Scottsdale, you think I would know it existed because it's been around as long as I've been alive. But it wasn't until a co-worker suggested I go visit that I discovered it.
When I went, I remember walking through the doors and my eyes were wide open. It's a Disneyland for any creative. I must have spent five or six hours that first day walking around talking to the artists and not believing that this was actually a thing that maybe one day I could do. I'm still blown that I'll be there this year.