Throughout college, metal embossing was simply a favorite pastime for Veronica Sandoval when she wasn't busy with her studies in business administration. It was during that time she introduced Gabriel (her now husband) to this ancient art form and he, too, fell in love with the craft of working with copper and aluminum. But neither could have imagined it would turn into a lifelong passion and career.
Over the years, the husband-and-wife duo refined their own unique style of repoussé, a metalworking technique used to shape and sculpt malleable metal by hammering or embossing the reverse side. As they forayed further into the ancient art form, Veronica and Gabriel adapted elements from the traditional Eastern and Western European styles––which differ significantly from one another––and also integrated patinas, and oil and acrylic paints. The result has been a vibrant and varied body of work.
Though they're no strangers to art shows, this will be their first year at the Celebration of Fine Art––and word on the street is they'll be debuting a few new pieces!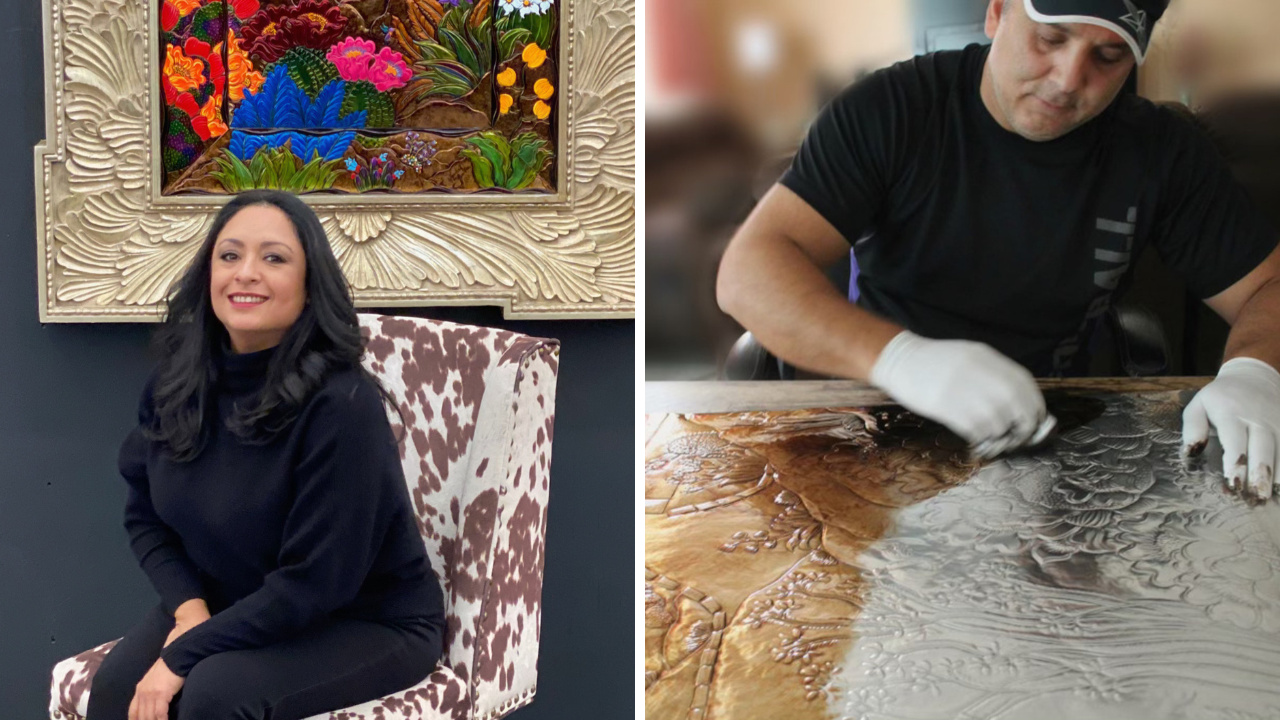 What first sparked your interest in metal embossing?
We discovered the fascination of how such an ancient and beautiful art technique can have no limits. We noticed how aluminum metal is very docile and malleable and we used it to our advantage in making beautiful art pieces that make Veronica Sandoval Art what it is today.
What is the most rewarding thing about your work?
The most rewarding and gratifying thing is to see the reactions that people have toward our work and the connection that certain clients have towards our unique pieces. The hours, blood, sweat, and tears that go into each one of our pieces show our true passion for our art, and it's reflected in our clients' reactions.
What is the most challenging?
The most challenging thing is to have a blank sheet of aluminum metal in front of you and create something beautiful with your own ideas and motivations. I carve my own identity into each one of my pieces to give it my own unique style. I have become so connected to my passion for repoussé art that its taken part of my own identity!
Has your work evolved over the years?
When we began with Veronica Sandoval Art, it solely started with religious art being our main focus. But over the years, as I furthered my research into the history of the ancient art of repoussé and discovered that Eastern Europeans favor intricate detail, while Western European artists opted for depth and definition. We merged all the techniques and reinvented the tradition, combining finer details with more excellent definition. We added acrylics and oils to the already traditional patinas and thus the reflection became a design element and allowed us to grow and diversify from our religious pieces into creating large magnificent landscapes, feminine silhouettes, extravagant mirrors, and contemporary designs. Evolving is getting out of your comfort zone, taking risks, and continuing to discover what else we can create.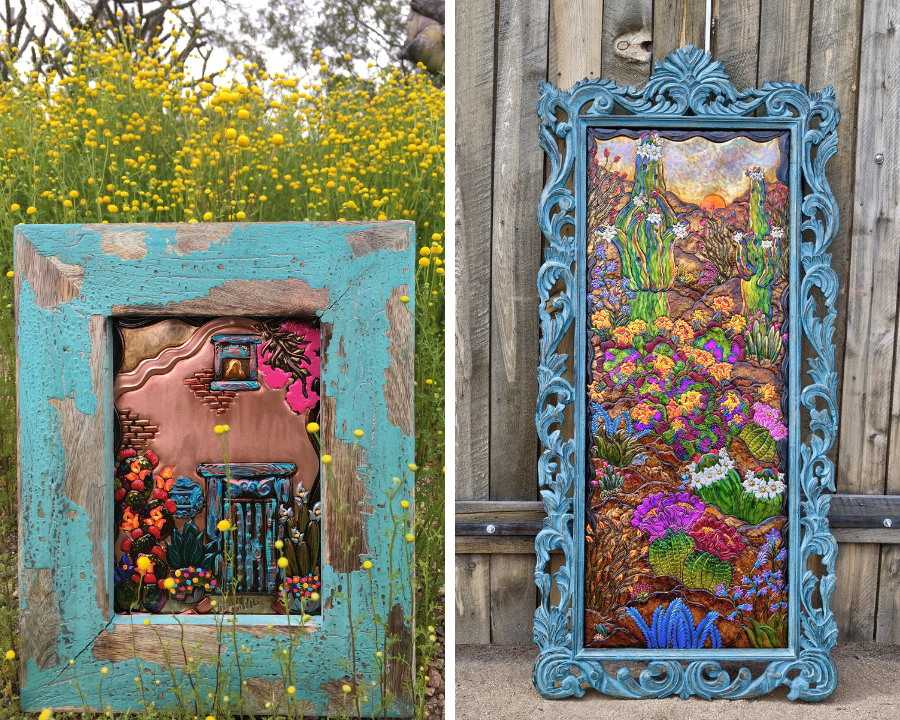 Is there a particular piece you're excited to introduce at the Celebration of Fine Art?
We have many art pieces that represent the beauty of Arizona and the Sonoran desert that we're excited to present once the Celebration of Fine Arts begins but we're currently working on a few pieces. To begin with, we're creating a collection of jewelry boxes that are covered with aluminum and embedded with my favorite precious stones. We're also in the works of finishing a six-foot-tall piece of our signature San Xavier Del Bac design that's mixed in with the true colors and landscape of the Sonoran desert! We love pushing our limits by creating large and compelling pieces that give our booth the wow factor and we're very excited to finish it and present it!
When you're not creating artwork, how do you spend your time?
We're a very active couple and love to hike in the beautiful Arizona trails as well as road biking, feeling the freedom of nature, and at the same time, it is inevitable not to stop inspiring us to continue creating works. We also like to spend our time with our family. We're fortunate enough to have our kids living in Scottsdale with us and sharing the love we have as a family inspires me to share that love in my art.
What drew you to the Celebration of Fine Art?
We wanted to explore new opportunities to continue growing in our professional life. We've heard about how much of an impact the Celebration of Fine Art makes in our local community as well as try to participate in one of the most important art shows of the United States and we're blessed enough to commence our first year with Celebration.