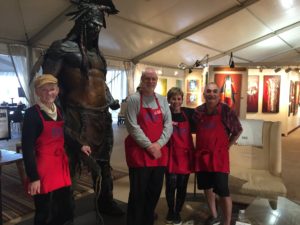 Office team? Check. Cafe team? Check. Men of the tent? Check, check, check! We've shown some love to a few of the teams that help our world go round, but it's high time we introduce you to our Red Apron and Gate Greeters!
There is no way that this show would be what it is without our amazing team of Red Aprons and Gate Greeters.  Every one of them absolutely loves connecting with visitors and supporting the artists of the Celebration!
In addition to connecting with the show's visitors, these two incredible teams are essential in supporting our artists, working together to ensure the Celebration of Fine Art is a welcoming, warm place for artists and art lovers alike.
Here are a few of the extensive Red Apron and Gate Greeter crews, so if you see any of them while perusing our artists' work, be sure to say hello! Without further ado, please meet Dawn Barnett, Karen Jones, Linda Cohen, Ellie McGaan, Kim Gifford, Rick Hoye, Ellen Fong, and Cindy DiMascio.
How many years have you been with the CFA?
Dawn: I've been fortunate to work at CFA for 10 years.
Karen: I have been participating in the CFA for 21 fantastic years, and I believe I have been "on staff" maybe 16 or 17.
Linda: I'm a "newby" since this is my first year at CFA and I'm loving it!
Ellie: I have worked at the CFA, I think, for 6 years. Which does not seem possible!
Kim: Since 2014, this was my 6th year!
Rick: This is my first year.
Ellen: Five, including this year.
Cindy: I have been here at the Celebration assisting different artists for two years and this is my first year as a Red Apron.
What do you like best about being on the CFA team?
Dawn: This amazing art experience came into my life at the perfect time.  I LOVE working here. It has tons of energy and makes me so happy.
Karen: What I truly like best about the CFA is watching the evolution of the artists. Now, having spent such a large part of my life here, I've seen how it actually changes lives and career choices. I've seen artists grow in self-confidence, vision, spirit and style. Good times, tough times, they all can lead to growth and watching these gifted artists rise to embrace each is a blessing to me.
Linda: There's an energy that permeates the CFA tent. My passion for art and art history is a lifelong one, and the creative mind and process is something that I specialized in at graduate school for my psych masters. Interacting with 100 talented artists from all over the country is right up my alley. It's all a win-win as all staff are lovely folks to be around.
Ellie: I so enjoy coming back each year. Our team is flexible, understanding, so very, very kind –– especially Susan. I have been through a bit of bad stuff and Susan and the team are always there to help me when they can.
Kim: The opportunity to work with a fabulous group of people (the owners, artists, and all the other team members).
Rick: I like that everyone works well together and cheer each other on when a big sale is made.
Ellen: The sense of community and camaraderie. Making new friends!
Cindy: I love being on the CFA team mostly because it has been a joy getting to know so many of the people that are a part of the show. It makes me feel like I just want to keep coming back. As long as I am available this time of year I will make an effort to be a part of Celebration of Fine Art.
How many steps a day do you track on your Fitbit?
Dawn: I usually walk between 12,000 to 14,000 steps as Red Apron.
Karen: Haha –– yes, I can log a LOT of steps in a day here, but what's most important is how much I love the show's energy.
Linda: I log between 13,000 to over 15,000 steps at the tent, so I'm adding to my physical fitness routine as well.
Ellie: I do not wear a Fitbit, but I do walk the halls regularly and strive to be the Red Apron you can expect to represent the CFA.
Kim: If I wore one, I'm sure it would be about three-plus miles each shift.
Rick: I'm old school and use a pedometer –– about 30,000 steps a day when working as a Red Apron.
Ellen: 14-15K steps! Great exercise.
Cindy: I need to get a Fitbit! I don't really know how many steps I've taken this year but I find it joyful to be able to walk around all day talking with great artists and meeting new people. Being in service here is great exercise!
Have you made any purchases of art that have special meaning to you?
Dawn: Two of my favorite art pieces are from Barbara Rudolph and Whitney Hall.
Karen: Over these years, I've been fortunate to collect from many, many of the dear artists I've met along the way. But I think the piece that might be dearest to my heart is a stone sculpture created by my friend, Gedion Nyanhongo. It is titled "Receiving Blessings" and perfectly sums up my experience here at the CFA.
Ellie: I have not purchased anything.
Kim: Yes, a pair of earrings that were made for my granddaughter and myself from a birthstone ring of mine. There is more art I could see myself purchasing in the years to come!
Rick: Yes, a beautiful painting from Becky Pashia.
Ellen: Yes, pieces by Kathy Hope, Diane Barbee, Jenny Foster, Elizabeth Hake, Jen Vranes, Lee Wright, and Bruce Marion.
Cindy: This year I purchased a beautiful poppy crossbody purse from Jen Vranes. It's a gift for my daughter  and is one of my many favorite prints from Jen's paintings. It has been a joy to work for Jen several times this year as well as some of the other artists.
What do you look forward to most each year?
Dawn: Working with these hardworking, multi-talented artists and staff is a blessing for me. I love them all. I am so grateful.
Karen: Well, besides reconnecting with the wonderful friends I've made here at the CFA, I would say each year has its own anticipation of what it might bring: Which clients will we see again? How many new people will come through the door and fall in love with the experience here? How have the artists evolved and grown? And which new artists will discover here a life they only dreamed about?
Linda: I particularly enjoy talking with the artists and asking how they developed their unique techniques and their choices of mediums. Everyone has an interesting story.
Ellie: Everyone helps. Everyone cooperates. I just love that teamwork!
Kim: Reuniting with all the artists and seeing their new methods and creations.
Rick: Seeing all the art and creativity and stories behind it.
Ellen: Reconnecting with the artists and seeing their new works of art!
Cindy: The joy –– it makes me want to be a part of the CFA and come back each year. Thank you for that opportunity, Susan, and especially for all you, your family and your leadership team do to make Celebration of fine Art happen each year. We love and appreciate you!