Commissioning a piece of art can be a rewarding and joyful experience for art lovers. But, naturally, for first-timers, there can be a lot of mystery and questions surrounding the process. How much will it cost? How much do I get to influence the final piece? What if it doesn't turn out the way I envisioned? How do I find the right artist? And the list goes on.
While every artist approaches commissions differently, there are some best practices to consider to help you end up with a custom piece of art you will love and cherish for years to come –– and hopefully pass on to your future generations.
Aligning with the right artist
One of the most important things to any commission is to trust the process and the artist. To do that, you have to find an artist whose work you like and feel will capture what you're after. You may have a favorite abstract artist, but if you are looking for a highly detailed piece, you may have to work with a different artist. That may go without saying, but it can be tempting to go with your favorite artist even if they don't necessarily specialize in the look you're aiming to achieve.
Any good artist will know his or her limitations and will be upfront about what they can and cannot do. Don't be disappointed if they don't feel they aren't the right person for the job. Being candid and transparent from the start will avoid costly mistakes and even bigger disappointments in the long run.
Also ask about their process and policies before you begin. Every artist will structure payment terms differently. Some require 50% at the start with the balance due at the end and only once you are 100% happy with the piece. Some will also offer a money-back guarantee if you aren't happy, which can offer reassurance especially if it's your first time.
Working with the artist
The artist should spend the time to really understand what you are looking for and ask detailed questions. They are essentially portraying a story and most artists will put a lot of care and time into this part of the process.
Since they are working to transform your vision into a physical piece, whether a canvas, panel or sculpture, they should ask a lot of questions. This is true whether it's simply tailoring an existing piece to your specifications or commemorating a specific person, place, time period or event. They should also work closely with you on the logistics –– size, color palette and timeline. Some artists will create small- or large-scale studies and color samples for you to approve first before they dive in with a full-blown work.
Timeline is also important. In some cases, particularly if you've commissioned a piece from a show, the artist may not be able to start the piece until after the show or may have a backlog of commissions to work through. If this is the case, it can be a couple of months to a year before you get your final piece. Just be sure to ask at the start so expectations are aligned.
If you have any reference materials like photos, share those with the artist and note things you like or dislike about the photo. For instance, if it was captured on a rainy day, but you want the painting to reflect clear, blue skies, communicate that to the artist.
If you don't have reference photos, in many cases, the artist will go take their own if it's of a particular place, person or animal. If it's a portrait, they may ask to interview the person or have several sittings with them. Particularly, with portraits, artists want to capture the essence of that person and often that detail is in the slightest subtleties in the face. A combination of good reference materials and your candid feedback will be very important to creating a piece you are happy with.
The below are a few commissioned pieces by Judith Dickinson.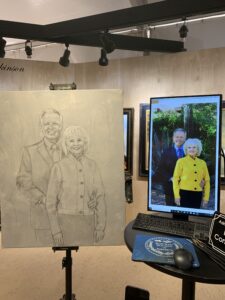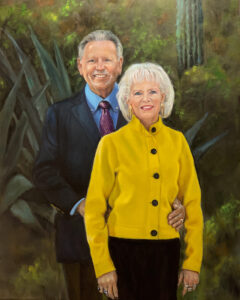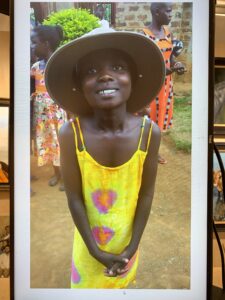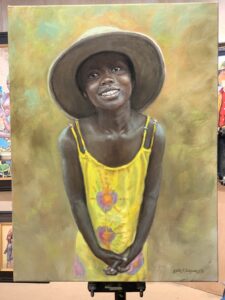 A few parting tips
Remember, a commission can be as simple as changing the size, scale, color of a piece the artist has already created. Don't be afraid to ask what is possible. Some artists have even collaborated on pieces to get the client exactly what they want.
Also check your state's tax laws. In some states, commissions are tax free, but there are specific parameters that dictate what a true commission is.
Finally, keep in mind you chose that artist for a reason. Trust them and their process and try not to put too many limitations on their creative freedom. Every good artist will put their heart and soul into creating something you will love, but communication, transparency and trust are the name of the game when it comes to commissioning artwork.
One last thing, be prepared to make a new lifelong friend out of the process. It's not uncommon especially after spending so much time with the artist to get your piece just right.