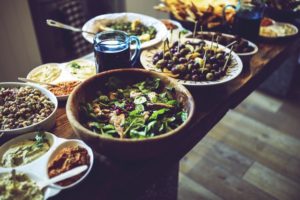 Every January, the Celebration of Fine Art convenes 100 acclaimed and emerging artists for the most beloved art show of the Southwest. While a number of the artists are from Arizona, there are 20 other states represented. Over the years, these visiting and local artists have gotten dining out in Scottsdale down to a science.
No matter the category you're craving, when you're visiting the Valley, Celebration of Fine Art artists are happy to provide recommendations on the restaurants they frequent most:
Best Patio:
"Isabella's Kitchen, hands down. The food and service are great, but the comfortable outdoor atmosphere and views are tops. Extra soothing at sunset to unwind and connect with friends around a fire. Love!" – Stephanie Revennaugh
Best Healthy Option:
"True Food because I can always count on finding something unusual and tasty there. Plus it's in the beautiful Scottsdale Quarter!" -Kathleen Hope
Best Happy Hour:
"Olive and Ivy, the flavors are varied and always good." -Trevor Swanson

Best Date Night:
"Lon's at the Hermosa Inn has an amazing patio for watching a sunset or eating under the stars and the food is absolutely amazing. Deseo at the Westin Kierland is one of our favorite restaurants in the Valley.  Great Nuevo Latino food with small plates ideal for sharing so you can sample many different flavors. Also, you can sit at the "Rail" and watch the chefs create their beautiful dishes. Great food and entertainment all in one!" -Heidi Rosner
Best Mexican Food:
"The Mission, because it is independently owned, the food is amazing, and it is right downtown near the theater and other fun places." -Julia Chacon
"Jalapeño Inferno because they have great margaritas." -Myron Whitaker
"Salt & Lime. I love all the creative taco options they offer (like 10 or 12 variations) and they can be ordered on corn, flour or lettuce wraps. Plus they have the BEST sangria!" -Kim Ballard
"Blue Adobe Grille. I have great memories there with friends."  -Shelli Kahl
Do you have a favorite restaurant in the Valley? Please share in the comments below!