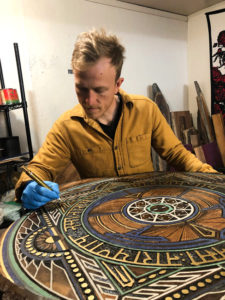 Michael Beckerat's journey in art hasn't been a continuous path. He first began drawing when he was very young, but stopped making art for a long time. Then, about eight years ago, he was house sitting for some artist friends when he reignited his passion for art. Alone with no cell phone, no internet service and just his bicycle that he'd ride around on for a few hours each day, Michael turned to studying art to pass the time.
"I would look at the art on their walls and think to myself, 'The only way I'm going to be able to put art on my walls is if I make it,'" Michael says. "So I started making it. And that pretty much changed the course of my life."
He picked up drawing again and began to explore acrylic. As he experimented, he found himself drawn more and more to symbols and what they've meant in his life. One day he saw an artist who did stone inlays on gourds and suddenly knew: he wanted to do the same but with wood.
Today Michael creates hand carved fine art sculptures, sourcing high-quality materials from around the world. Once he has one or two symbols in mind for each piece, he carves the wood, adds details into the stone, and finishes with decorative colors.
As for where Michaels dreams up these one-of-a-kind ideas, he has a very specific creative process. 
"I go to the woods and pray and wait to get something given to me, and then I put that into my work," Michael says. "Sometimes I understand what it means and sometimes I don't, and I'm okay with that."
Michael maintains a regular meditation practice and believes taking the time to be silent and ground himself is the best way to get his creative juices flowing. He feels that creating is a connection between heaven and earth, and that symbols can be pathways to connect the two. He also appreciates that what his symbols represent to him may be completely different than what they signify to others.
Another source of inspiration for Michael is participating in the Celebration of Fine Art. He says the length of the show enables artists to experiment with their art and pour energy into trying new things. It also increases the opportunity for patrons to make new discoveries.
"There are a lot of very talented people here," he says. "It's a slow enough pace where you get to take in the art and spend time with the artists. You can see other artists interacting with each other and see a lot of different mediums and perspectives."
See more of Michael's story below: