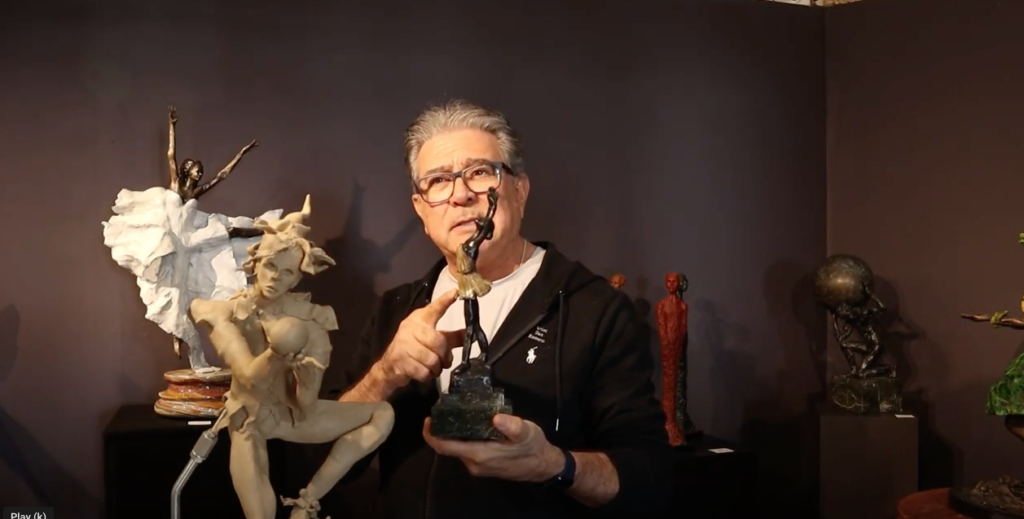 Dan Romero's journey to becoming a bronze sculptor seems like it could have been lifted straight from a screenplay. It involves a smattering of intriguing characters, a "hero's journey" dotted with a serendipitous encounter and obstacles to overcome, and finishes with a victorious ending (spoiler alert).
Dan spent more than 40 years in the film business, traveling the world to be on location for countless Hollywood blockbusters. Becoming an artist wasn't even on his radar until one fateful encounter while on set at the San Francisco Opera House filming the movie "Steve Jobs".
After an all-nighter of filming, Dan was leaving the opera house and happened to catch a glimpse of some banners promoting the nearby ballet. Looking at the ballerinas, he heard a voice say "You could sculpt that." But there was no one within earshot. Turns out the voice was emanating from within.
Dan felt a strong compulsion to follow the inspiration and within minutes found himself standing in the clay aisle of a nearby art store. He spent the rest of the day feverishly sculpting the ballerina he saw that morning. That piece, which he keeps as a reminder, led to down a new path as a bronze sculpture artist, and he hasn't looked back since.
Dan continues to lean into his strong creative inspiration to make way for his deeply evocative sculptures to take shape. Read on (or watch the video below) for more of Dan's screenplay…we mean…story.
When did you know art was your calling?
In 2015. I was working in the film business for 43 years and at the time, I was working on a movie called "Steve Jobs". We were at the San Francisco Opera House and we got the space from 10 o'clock at night to 10 o'clock in the morning because opera was in season. The ballet company across the street shares the theater with the opera company and overnight they hung four banners of three ballerinas and one male ballet dancer. On Sunday morning, I came out of the theater after working all night and I looked up and there were these four banners. As I was looking at the banners I heard in my head, "You can sculpt that," but there was no one around me. It was just me looking at the banners. I looked at it again and I heard the same voice. "You can sculpt that."
I remembered there was an art store, about seven blocks up the road. So I got in my car and drove up and there was a BLICK art store there. It was about 10:30 on a Sunday morning. I walked in and asked the guy behind the counter if they sold clay. He took me to the clay aisle and there were 25 different kinds of clay. I had no idea which one to pick. And I said, "So which one?" And he said to me, "Dude, I'm a painter. I don't know anything about clay." So I grabbed two blocks of clay, some wire, a pair of wire cutters, and eight basic wooden sculpting tools. I went back to the Fairmont Hotel where I was staying in the making of that film and I sculpted the ballerina. I finished her ("Patrice") around 4 p.m. I took a picture and sent it to my wife and she said, "Where'd you buy that?" I told her I had just sculpted it and she was incredulous. I had to convince her I really did.
How has your work evolved?
After I came home to Southern California, my wife got me four class lessons at a sculpting studio. The fellow that was running the studio couldn't believe that I had never done anything like this before. With his tutelage, I started sculpting. The first thing I sculpted in the studio when I walked in that first day [was a bust]. He was looking through my phone and discovered a bust of a Native American. His name is Paul Young Pine, and he was one of the Indians in the movie, "The Revenant" that I did with Leonard DiCaprio. He instructed me to sculpt that.
What challenges you the most about your work?
Coming up with what I'm going to do next. I'm building an armature right now and I don't really know what it's going to be. But I didn't know what [my current work] was going to be. He was just a wire armature last Monday, and today, a week later, he's this guy.
What do you love most about creating art?
It's so encompassing that when I'm working and doing this, I sometimes forget to eat or drink. I'm so involved in trying to create the image and the sculpture and that makes time fly so fast. It's so fun. I just have such a great time. Then afterward I get to display them in places like this, which is amazing. People enjoy them and I get to have conversations with folks from all across the country. It's just the coolest thing ever. It's really fun.
What drew you to the Celebration of Fine Art?
It's the ability to come in and set up and not move for 10 weeks. I've done many, many weekend pop-up shows where you go in on a Thursday night and you have to tear it all down on Sunday. Bronzes are kind of heavy to move around so the ability to come here and set it up and you having a week to prepare [is great]. The artistry at Celebration is maybe the best I've ever seen. It's just phenomenal and I feel so honored to be a part participant this year. It's my first year and every day I go home and I pinch myself that I'm here. True story.