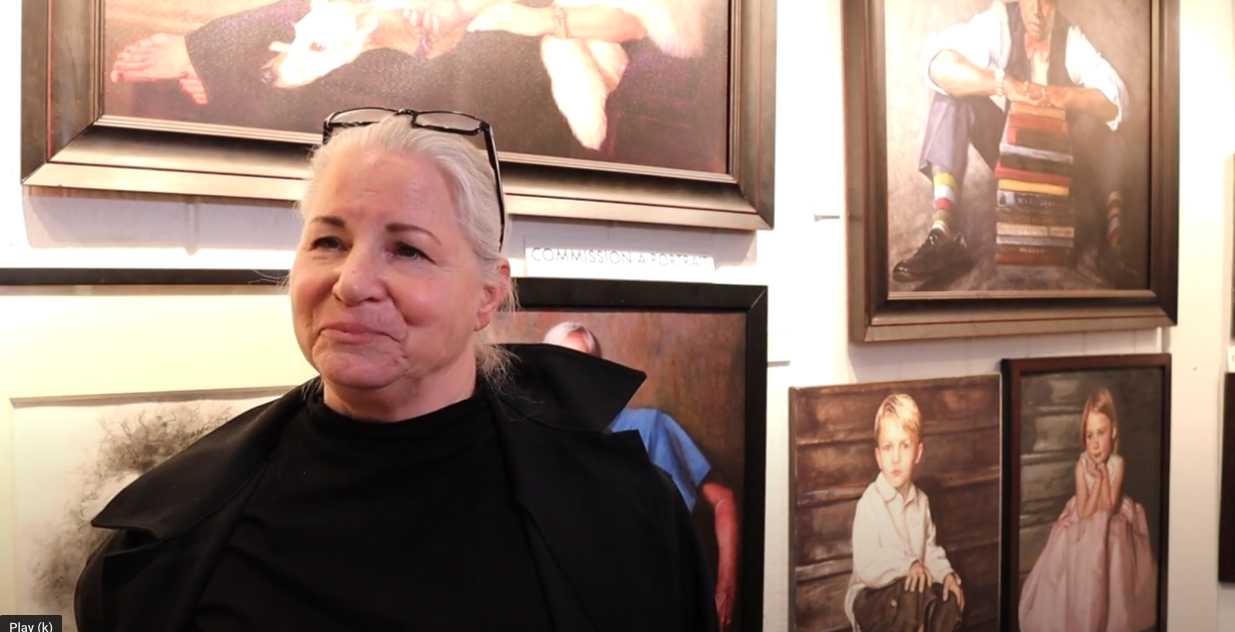 For portrait artist Robin Damore, a painting isn't complete until two things occur: she's adequately captured the spirit of the person or animal she's painting and she's overcome whatever challenge or lesson that painting has presented her.
This criterion has led to an impeccable body of work and numerous awards (though Robin would never mention those). And the most surprising thing is, she didn't start painting until her mid 40s––though you'd guess she's been painting for a lifetime.
Robin's paintings go far beyond classic portraiture, channeling great depth as she captures the spirit of her subjects, and to achieve that she says there's a bit of magic that has to occur. As a result, her pieces are rich with emotion and connection.
Keep reading for more of Robin's journey.
When did you know art was your calling?
I took my first painting class when I was 45. I have a degree in chemistry but I've always been creative. When I took that first painting class, it was just a one-week class. At the end of it, the teacher called me and said, "I can't believe you've never painted. You should come and study with me in New York." So I rented a little apartment in SoHo and went and painted with him. He told me I could start to sell commissioned work but it took me a long time to tell anyone that I was an artist. I thought art was for talented people, but not for me.
What do you love most about creating art?
I lose track of time. It's very exciting to me. If I'm excited about something, I can work until late at night and be up early in the morning. I feel so motivated by it.
I can also get stuck. When people ask me how long it takes to finish a painting, I always say, "It just depends on how much I suffer." Because usually to get it right, there's something that's required for me to get over. There's something I have to learn. Until that happens, it's not finished. I'm always learning. I've been painting for 22 years and every painting still teaches me something. I'm continuing to get better.
What challenges you the most about your work?
I've seen a lot of portrait artists who can get the likeness of their subject but spiritually, the person is absent in the painting. For me, a painting is not done until I'm spiritually connected to it. There's a little bit of magic that has to happen at some point in the creation of the painting. Until that happens, it's not done. That can be the most challenging thing––getting to a place where I can say, "Okay, now I recognize them. They're here with us. This makes sense to me."
What do you hope your work inspires in others?
Usually, people are not commissioning paintings of themselves. Often it's someone they love. I hope that the painting gives them a moment in time that captures that person and delights them.
How has your work evolved?
I just look at the work that I did five years ago versus the work that I'm doing today and I see a dramatic improvement. There's much more subtlety.
I teach portraiture workshops and I tell my students, "The more you see, the more you see." What that means is that the things that were a revelation initially are things that you can see every time that you're painting and then see something new––a shift in color, a grace of line, etc. I feel like I'm better at seeing them now.
What drew you to the Celebration of Fine Art?
It's been such a lovely experience. There are 100 artists here and there is no one that I'm not really attracted to as a person. It's such a special group of people and they have become really good friends of mine. I feel really fortunate.