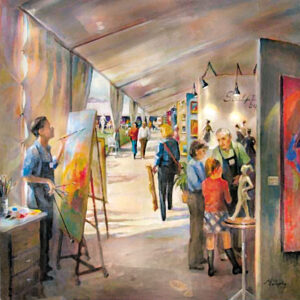 In 1990, Tom and Ann Morrow put out a call to artists to gauge their interest in participating in a new kind of art show in Scottsdale, Arizona. To their delight, hundreds of artists responded, so the Morrows set up a jurying event in a rented garage in the Scottsdale Airpark to select the final 100 who would appear in the debut show. 
Among the artists chosen to participate in the inaugural Celebration of Fine Art in 1991, there are three who haven't missed a single show since –– Marty Le Messurier, Kirk Randle and Graydon Foulger.
Artists on a Journey
With each passing year, Marty, Kirk and Graydon have been greeted with new challenges and opportunities to grow as artists. For example, when the show first began, Kirk was a watercolorist who created tight, almost photographic paintings of wildlife and rural scenes. And while his subject matter has stayed constant over the decades, his interests have steadily evolved. He's now known for large scale, impressionistic oil paintings and triptographs. 
Similarly, Marty moved from watercolors to oil. She maintained her same subject matter as well, including scenic moments from her travels and Native American-themed still lifes, such as old Apache baskets, Sioux beaded moccasins and colorful Navajo blankets.
"No matter the medium, I am a realist," Marty says. "Today, I paint exclusively in oil to create a textural feel to my work. The beads on the moccasins look real and the flowers in the Italian window box come alive with layers of paint."
And then there's Graydon, who has never wavered from his preferred medium –– painting vibrant plein-air florals and still lifes. During his first year at the Celebration of Fine Art, he sold 26 paintings of all shapes and sizes. Having only previously sold in galleries, he was thrilled with this new way to share his art with the world.
"As an artist that first year, I enjoyed meeting the people who connected with my work," Graydon says. "And visitors enjoyed seeing us create it. That's the whole draw of the show and it hasn't changed all these years later."
Attracting Art Enthusiasts 
Word about the Celebration of Fine Art spread quickly in the early 1990s, and it wasn't long before the show began attracting visitors from out of state and all over the world. Art lovers appreciated the opportunity to become more involved with the creative process, including touring 100 working studios, attending special art demos like bronze pourings and glass blowing, and the Art Discovery Series, which is now a popular Friday afternoon tradition.
As these three talented artists tell it, they've also delighted in seeing visitors and collectors return year after year. One joy that's remained constant is never knowing who might pop in!
"One year, as I was working on a painting, a gentleman looking at one of my paintings remarked about what a great title it had," Marty says. "I said thank you and looked up to see Dick Van Dyke!"
Enriching Life Through Art
Now, after having a front-row seat to three decades of celebrating art, Marty, Kirk and Graydon say they are grateful for the relationships they've built through the Celebration of Fine Art and for the exciting opportunities they've received over the years.
"One of the collectors I met through the Celebration of Fine Art owns Edward Hopper's summer studio and invited me to visit," Kirk says. "One year American Art Collector came along with us and documented the experience. It was really special and I'll never forget it."
These connections come in all forms, whether artist to artist, art lover to art lover, or even through an inspiration that evolves the artists work in a meaningful way. 
"We are a family of artists and collectors that have become lifelong friends," Marty says. "And we all have one thing in common: we know art is a gift and it is meant to be shared!" 
See more of Marty, Kirk and Graydon's work, along with the rest of the 2020 artists, on the Meet the Artists page here.