2020 inspired many of us to maximize our outdoor areas and create bonus living space beyond the four walls of our homes. For many, that meant upgrading patio furniture, investing in outdoor kitchens, finally planting that vegetable garden, building gazebos, or perhaps even creating a serenity garden. These were some really excellent home improvements to think about, especially during those summer months. For instance, a new decking was a popular choice. You might have had a pretty bare garden or a plain lawn that just didn't capture anyone's attention. A decking and perhaps a front porch might have appealed as a perfect way to spice up our outdoor area. You may have even had a decking already but needed to have a company that specializes in deck repair sydney area or similar, to come and restore it or repair it! This goes for any outdoor improvement, sometimes it takes a bit of TLC to make all the difference. And with the lockdown time on our hands, this was possible. Either way, there is nothing like feeling proud of your home. Some even took the extra step and decided to embrace their patriotism and proudly display the flag from a colossal flagpole to really brighten up their outdoor space while giving it more of a purpose. But anyway, let's get back to the main event now! So, what about the art?
Art has the power to transform any space it adorns, and that includes outdoor spaces. While most outdoor vistas can be made breath-taking by simple additions like garden concrete slabs and pavement, lawns and yards flanked by a unique sculpture or piece of art hung on an exterior wall can create an extra special space that's truly your own. An artful gate at the property entrance or garden entry can signal something special is just beyond.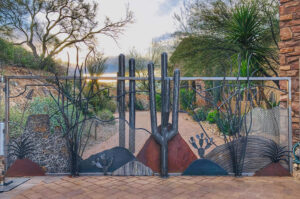 When art moves outdoors, however, there are some considerations to keep in mind, from selecting the right medium to understanding upkeep and care. And of course, you still want to find pieces that speak to you.
Fortunately, myriad outdoor-friendly options make accomplishing these goals simple.
Understanding the medium
Finding the best art for your outdoor space begins with some basic knowledge about the limitations of certain mediums. Art that is displayed outside is subject to the local climate and environment. You want to select pieces that will work in harmony with the weather. Most artists will have a deep understanding of the medium they are using and can direct you on how to best care for it, as well as best placement for the piece.
Generally, metal pieces –– those cast in bronze or copper or crafted from steel or aluminum –– are good durable options. However, bronze, copper and brass oxidize in the elements and form a patina. This patina doesn't harm the piece, but it does change its appearance. The Statue of Liberty is a great example of this. Though hard to imagine, this was initially crafted in penny-bright copper. But now we all know it for its beautiful green patina.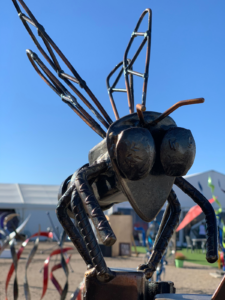 Stone and clay are two other strong, sturdy sculptural mediums. There are essential differences between carved stone and kiln-cast clay or poured concrete. Carved stone, like the piece below from Gedion Nyanhongo, is crafted for longevity. These pieces will erode over time, just like cliff sides and mountains, but this process takes ages (literally).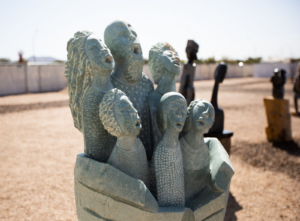 Manufactured stone and clay pieces, however, are more susceptible to moisture and freezing and thawing. Those who live in colder climates should remember that wide swings in temperature, from snowy winters to humid summers, can impact clay or concrete pieces over time.
Wood pieces are sturdy. However, art lovers must take special care with wood sculptures. Like wood shingling on a house, wooden artwork needs upkeep –– typically with new coats of paint or varnish. Humidity and freezing and thawing also cause splits in wood over time, making this medium not the most ideal for certain climates.
There are pros and cons to just about any medium placed outside. No matter what type of outdoor artwork you select, consider the maintenance cost when setting the budget for your outdoor gallery.
Thinking beyond sculpture
Sculpture art tends to be a natural choice for outdoor spaces as it's often made from weather-friendly materials and also allows flexibility in your overall design. You might select a single statement piece to greet visitors as they arrive at your home, or opt for several sculptures designed to nestle into the landscaping and create artistic vignettes throughout your yard.
But when it comes to creating a space that's uniquely yours, think beyond just sculpture. In fact, there are a number of alternative artforms to consider for your outdoor space. While canvases may be best suited for indoor life, some artists create hanging art designed to withstand the elements.
Trevor Swanson's oil on copper paintings are well-suited to a life outdoors. His scenes often feature animals and natural elements, allowing them to blend harmoniously with the real-life nature of your surroundings.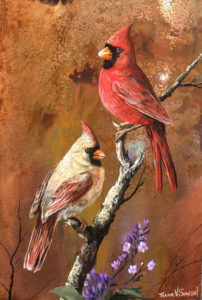 Bronze sculptor J. Todd Paxton has expanded into painting patina on steel. This newer medium allows him to explore his storytelling in a fresh light.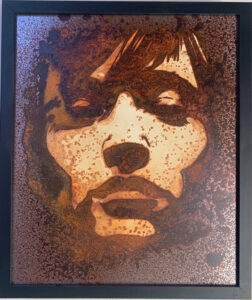 Beth Zink creates agave silhouettes printed on aluminum with UV ink. These pieces are a natural fit in arid climates like the Southwest, where the colorful plant cutouts reflect the rich colors of the surrounding land and sky.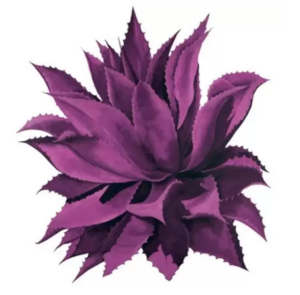 Any of these wall art pieces could adorn a covered patio, the exterior wall of your home, or fencing around your property. However, take care to limit exposure to the sun and elements. It's wise to bring hanging artwork indoors during inclement weather.
Finding the right placement
As with any piece of art, finding the proper placement in your space is important. With indoor art, you may consider its relationship to furniture and your room's ceiling height. Outdoors, you have other factors to weigh.
You'll want to consider how the art works in the natural environment. The way the sun will reflect or cast shadows is an added element to the actual art itself. You will also want to consider the architectural influences and choose pieces that will enhance the surroundings.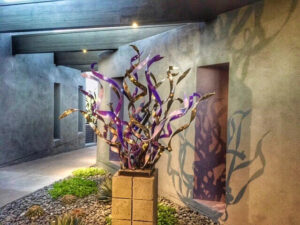 Tonnage of the piece should be included in your placement decision. Large-scale sculptures can be quite heavy. Find an area that is well-equipped to support that weight. Areas with soft ground that form deep mud puddles in springtime, for example, may not be an ideal choice.
Similarly, if you choose to display your artwork on your home, are there structural considerations? Is your deck or roof able to bear the weight of a piece of art? If you're concerned about your space's load-bearing capacity, you might talk with a contractor first.
If your sculpture is destined for a life in the surrounding landscape, it's time to consider the natural elements of your yard. Will it be difficult to trim the grass around the base of your sculpture? Will the root systems of the nearby trees eventually disrupt the ground and upset the balance of your artwork?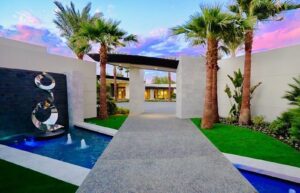 Because outdoor art is made to last and is often difficult to move, there are some longer-term considerations you have to make when considering where to place your pieces.
Collaborating with the artist
Even the most seasoned collectors may feel some hesitation in beginning to plan their outdoor artwork scheme. If you have questions or concerns before you purchase, speak to the artist about their work. Artists are experts in their craft and understand the intricacies of their medium. They are well-positioned to provide in-depth guidance about the kind of art best suited to your space and how to care for it once it's there.
If you are having difficulty finding artwork to suit your needs, consider commissioning something. Artists enjoy collaborating with art lovers, and you can work together to dream up a singular piece tailor-made for your space.
When it comes to purchasing art, it's time to think outside the box (or four walls). Art has the power to bring joy and inspiration to any space –– including outdoor areas. Abstract or representational, stone or metal, there are countless possibilities for suitable outdoor artwork. A little homework can help you find pieces you love that will last for years to come.