Lisa Skyhorse may not have always known she would be a professional saddlemaker, but she knew from an early age that she was drawn to horses, artistry and leather. And in college, these three interests finally converged.
To help fund her collegiate studies, Lisa sold her leather work at local street fairs and it was this path that ultimately led her to saddles. She sought out an apprenticeship and hasn't looked back since.
Three years into her saddle making, Lisa's now husband, Loren, also became interested in the art form. Now, nearly 50 years and more than 1,200 saddles later, the duo has not only made a name for themselves in the industry but also for working to keep the art and craft of traditional saddle making alive. In fact, Lisa and Loren have traveled to various countries and local regions to teach others how to make a livelihood out of traditional saddle making and leatherwork.
After decades in the industry and developing a following, they've been able to push the envelope with their saddle designs, bringing more artistry and edge into their pieces. They've also stretched their mastery of leather to wall art and furniture, which will debut at the Celebration of Fine Art.
What inspired you to pursue saddle making as a career?
I've always been a lover of horses and I've always been artistic. And leather has always spoken to me. I put myself through college going to street fairs and doing leather work. And so ultimately it was a natural progression to apprentice the saddle maker and start building saddles.
In college, I was an art major and a philosophy minor. Of course, my parents were thinking, "Ooh, that does not sound very promising". But it turned out to be promising because I've been a full-time saddle maker for 50 years now and my husband and I philosophize all day long…..we can't save the world, but we can think about it!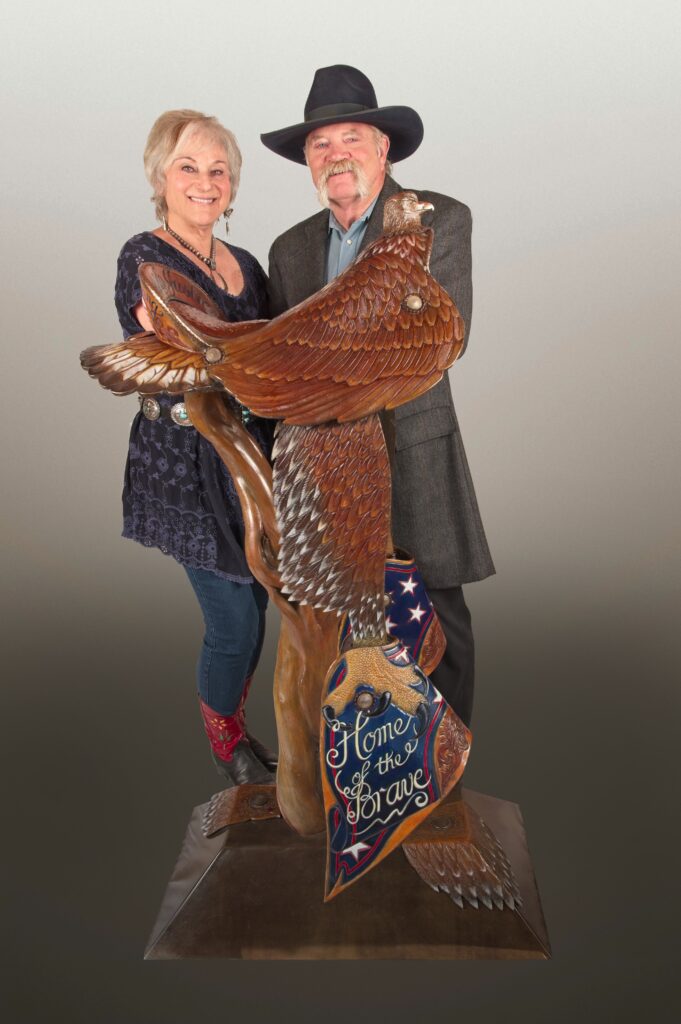 What is the most rewarding thing about your work?
There are so many things. The first is that my husband and I are both avid horse people and have been our whole lives. So it's wonderful to have an art and a profession that incorporates our love of horses. Of course, the second thing is being able to do something we love. It's artistic. It's functional. And I love functional art. It's very archival. Saddles last over 100 years and they're heirloom pieces passed onto our customers' children and children's children.
What is the most challenging?
One thing, which isn't as hard as it used to be, was being a woman saddle maker. Because I may be the longest-practicing woman saddle maker in the US. When I started, women weren't easily accepted. Now, it is more accepted.
The other challenging thing, ironically, is that our saddles are so beautiful that people think, "I couldn't ride that. It's too pretty." But the truth is, you could rope off of even our most ornate saddle. They're 100% traditionally built and functional.
Has your work evolved over the years?
It's evolved quite a bit, I think because as we become more and more established and accepted and successful, we have more and more leeway to pursue the artistic part of it. We've become more contemporary and a little more aesthetically edgy. And they're still accepted. They've actually even set a trend for more contemporary looks in saddles.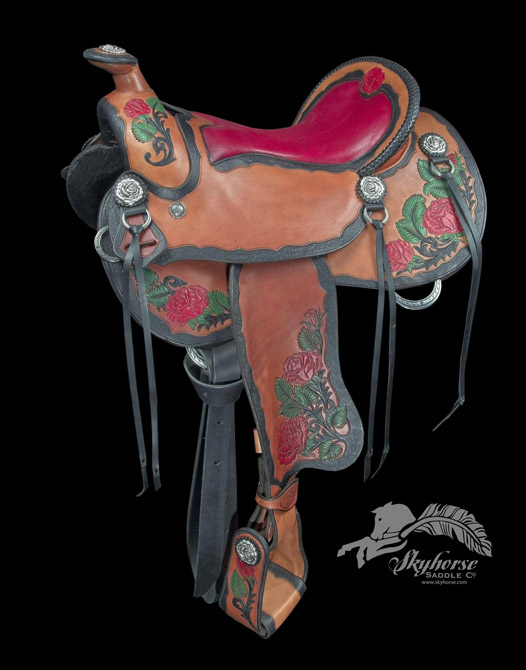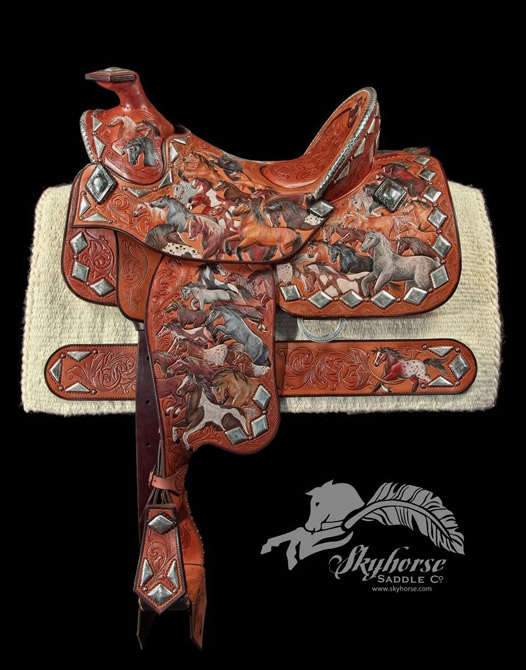 Is there a particular piece you're excited to introduce at the Celebration of Fine Art?
We have a handful of what we call 'collection saddles'. Each one is incredibly unique and very different, and we're excited about being able to present those. We have an armoire that we built with an awesome woodworker who was in the Western Design conference that we're excited to show. I've also done a series of wall art pieces that look like paintings, but they're done on leather three dimensionally. We're just excited about the different mediums that we can present at this show.
What drew you to the Celebration of Fine Art?
We have been full-time saddle makers for decades. We've exhibited with many, many artists and a handful of them have moved to the Celebration of Fine Art. We've stayed connected with them and they just raved about it. Last January, we were in that area so we visited and fell in love with it. That's what drew us––the opportunity to not only have an art audience, but also to be able to connect with so many other artists.
Every artist we saw there was compelling and impressive. And when we were at the Celebration this last year, we were just blown away by the caliber of every single person there. We're excited to join that mix.