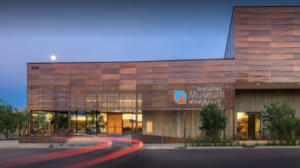 A trip to Celebration of Fine Art wouldn't be complete without immersing yourself in the other world-class art exhibits and events the Valley has to offer. Though you may have visited some of these in the past, they are constantly evolving and worth experiencing again and again.
First up, there's Western Spirit: Scottsdale's Museum of the West (SMoW). The New York Times recently featured SMoW in its popular 36 Hours in Scottsdale story, writing the museum "offers an encyclopedia of Western art, from a rare display of Hopi ceramics to lifelike bronze statues of Natives Americans by John Coleman." Visitors may also enjoy gallery tours spanning the museum's 43,000 square feet and educational activities highlighting the people, places and events of the American West. The exhibition offerings for early 2020 are robust and include works by Maynard Dixon, Gilbert Waldman, Paul Calle and The Arizona Highways Collection of Barry M. Goldwater. 
Also in the neighborhood is the Scottsdale Museum of Contemporary Art (SMoCA), which houses some of the world's most interesting contemporary art, architecture and design. The museum hosts up to 12 revolving exhibits per year, which means visitors are continually exposed to new and exciting concepts. We recommend Murmuration, which uses a data system to connect hundreds of lights and audio sources. Beginning in February, visitors can also experience an exhibit titled Design Transfigured/Waste Reimagined, which highlights sustainability. Another must-see is SMoCA's Unapologetic: All Women, All Year, which showcases powerful works by women artists in conjunction with the Feminist Art Coalition.
Round out your trip to Scottsdale with a stop at the beloved Musical Instrument Museum (MIM). With more than 6,800 instruments from around the world and ranked among the top 20 museums in U.S. by TripAdvisor, it's no wonder the MIM is a favorite museum stop for music lovers of all ages. Check the museum's event calendar, which is continually being updated, for information on new concerts, special exhibitions and programs for kids. We especially recommend a stop in the MIM's Experience Gallery, a hands-on space where visitors can pick up and play instruments from around the world, including a Peruvian harp, West African djembe and a Native American communal drum.
Lastly, head west from Scottsdale to midtown Phoenix where you'll find the internationally recognized Heard Museum, which boasts collections, exhibitions and festivals of American Indian art, as well as the Phoenix Art Museum, which houses close to 20,000 works of American, Asian, European, Latin American, Western American modern and contemporary art.
—
What are your must-see museum stops when you're visiting the Valley of the Sun?