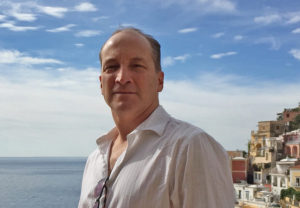 Stuart Yankell's foray into art was heavily inspired by two individuals: his father, who was both a research biochemist and accomplished artist, and his father's best friend, Leon Bibel, an artist who worked under Diego Rivera in the 1930s. Growing up around these two taught Stuart to look at the world in new ways that fed his growing interest in the arts.
While in high school, his parents gifted him a book on Leonardo da Vinci, which only fueled his enthusiasm. Captivated by his works, Stuart studied and attempted to replicate da Vinci's drawings. As college neared, he considered careers in music and the medical field. However, his artistic inclinations proved too compelling and he found himself at the Pennsylvania Academy for Fine Arts instead.
"I ended up in really traditional, classical training with portrait painting and the figure sculpture," Stuart says. "Over the years, like art itself, I've gone through that whole evolution of Realism and came up through Impressionism and then abstraction. My current style is a fusion of all of the above."
Whether using oil, acrylic or sculpture, Stuart focuses his works on celebratory themes, including dining, music and dance –– everyday joyful moments. Over the years, he's painted a range of complex socio and mythological themes, but he always returns to universal themes in life.
"I let the style itself be the thing I'm exploring," he says. "The style is unique –– it's the medium that transfers the energy and it is the fabric I've been wrestling with all these years."
The Celebration of Fine Art gives Stuart plenty of time to explore his ideas and push his style to new places. He likens the show to an innovation hub, where all different individuals bring their unique styles and skillsetsWhat's more, participants can learn from one another –– and they're better for it. 
"In terms of this event, there aren't many like this in the country where you have the duration and the promoters that have this dedication to the artistic community," he says. "They do an extraordinary job with the way they support the artists. The show has been a gorgeous experience."
See more of Stuart's story below: