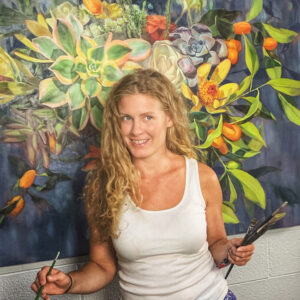 Elizabeth Butler was raised in a big family that loved art. Creativity was encouraged and nurtured, which led her to explore a number of mediums from a young age. She always knew art would be a part of her life, but she didn't know it could be her career.
While in college, Elizabeth pursued a degree in bioethics but the further into the process she got, the more she felt she was pursuing the wrong path. Unhappy and confused, she turned to drawing and soon found solace in her beloved pastime. 
"I realized this is what I'm supposed to be doing," Elizabeth says. "It was a realization that I needed art to be a part of my life in a really major way –– not in a hobby kind of way, but in an everyday, all the time, kind of way."
With that, Elizabeth changed her major, switched schools and started studying art. She dove into oil painting because she loved the color and richness it offered. She studied figurative and portrait painting, and eventually taught art. 
"I loved teaching but most of my time was spent helping others create their work so I never created my own body of work or got to know what my voice was," she says. "A couple of years ago, I quit teaching and devoted all my time to the studio and started transitioning into these floral pieces." 
Elizabeth has always been drawn to complex, beautiful and organic elements, and recognized similarities between the human figure and florals and botanicals. Painting the human form is known to be a complicated process, and florals can be just as demanding. She has to account for the way color moves across natural shapes, the way light bounces off leaves and the transparency in the petals.
"When I create these bouquets, I get to put together these different shapes and forms that become almost portraits themselves," she says. "They're very powerful."
Elizabeth tweaks the placements and scale of flowers to convey different messages and immerse viewers in their beauty. Interestingly, it doesn't take a lover of flowers to be attracted to her works.
"I'm not painting them because they're flowers," Elizabeth says. "I'm trying to put together a really complex story about the relationship between color and the experience of beauty. Even though I'm a floral artist, I think it's so much more than that."
Elizabeth also explains there are two sides to the art making process –– the time she spends in her studio creating art and, later, the experience of putting her art out into the world. The Celebration of Fine Art gives her the unique opportunity to do both in the same place over the course of ten weeks. 
"To be able to be present and watch other people receive what I've spent all this time doing is really powerful," she says. "It happens here in a way it doesn't really happen anywhere else because the people who come here are really here to connect with what you've done and what you've made and that's very fulfilling and very rewarding." 
See more of Elizabeth's story below: