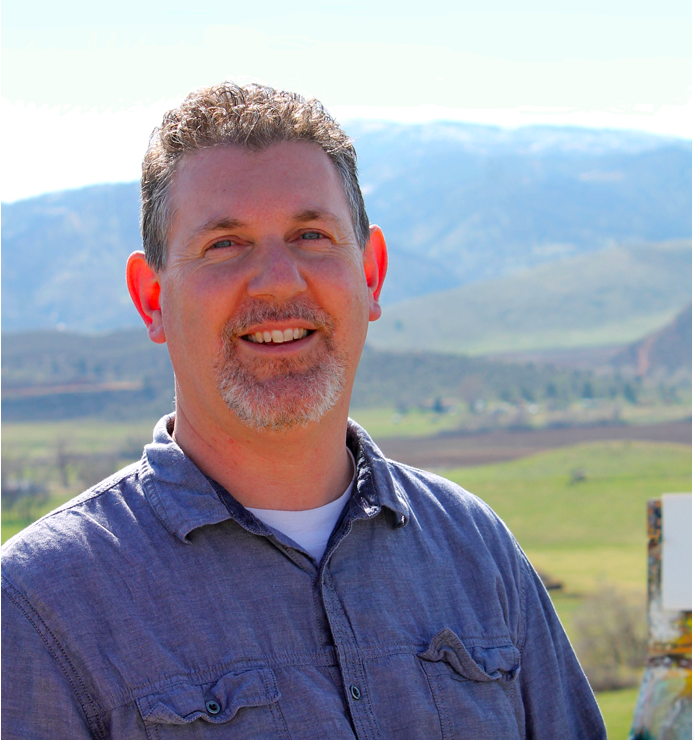 Keith Bond is a celebrated landscape artist known for field studies painted en plein air. He finds inspiration in nature, especially in remote landscapes untouched by humans. Keith, who is less interested in depicting a landscape scene down to the exact leaves on the ground, utilizes juicy brushstrokes to evoke the peace and serenity he sees.
"I love being in wilderness areas where there is a palpable, tangible feeling of the spirit of the landscape," Keith says. "I am specifically attracted to light and how it brings life to a scene."
Indeed, to see a Keith Bond painting is to know that light gives it life. His oil paintings give away his deep passion for the world around him, a quality that draws the viewer into each spectacular moment he captures. Standing in front of an ocean scene, it's as if one can hear the waves crashing against the rocks on the canvas. Or, in a mountain scene, one can hear the aspen leaves quietly rustling along the painting itself. It's a mesmerizing and calming experience that brings Keith great joy to create.
"The physical act of pushing paint around is delightful," Keith says. "Oil paint is such a versatile medium. You can achieve so many different effects and textures and there are endless ways to apply and manipulate the paint. I love to explore the possibilities and find the best way to express the message I want to communicate in the painting."
In his second year at the Celebration of Fine Art, Keith is looking forward to connecting with visitors and collectors who share his passion for the outdoors. Like last year, we have no doubt art lovers will be drawn into the pristine, harmonious beauty of his works.
Favorite artist? There are so many. Edgar Payne, John Singer Sargent, Frederick Judd Waugh, E.T. Compton and Edward Harrison Compton (who are father and son).
Music/Musician that inspires you? I have a very diverse, eclectic taste in music, including everything from classical to rock and world music to jazz and hip hop. That said, among my all-time favorite bands are Marillion, U2, Dave Matthews Band and Alanis Morissette. The common thread through my favorites is the musicianship and artistry, rather than a popular gimmicky formula.
Favorite place to travel? Everywhere. I've been many places in the world. I have never been to a place that wasn't exciting and surprising. I am always eager to explore new places I've never been. That said, I lived in Southern Germany and Switzerland for a couple years just after high school. That area will always have a special place in my heart.
Favorite Quote/Mantra?  "The principles of true art is not to portray, but to evoke." – Jerzy Kosinski
If you weren't an artist, what do you think you'd be doing?  Architecture. I almost went to architectural school…twice!