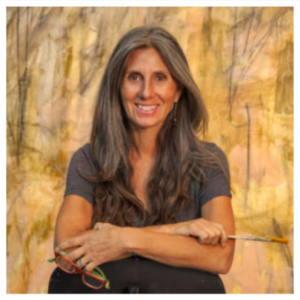 Sondra Wampler is a keen observer of her surroundings and has always been intrigued by the arts. She fell in love with the process of painting as a child, and was fascinated by starting with a blank slate and building upon ideas that would stimulate her imagination. Later on in life, while pursuing a career in commercial photography, she found herself drawn to modern painters as well as early masters of photography. At that point she embraced her passion and never looked back.
"I like experimenting with many materials, such as found objects, trash, paint and digitally printed film transferred into paint," Sondra says. "I am not an artist who plans too much ahead. I like the process of spontaneity, or the stream of creativity that comes in the moment of creating."
Today Sondra is best known for her botanical still-life work, and currently works with photo montage and contemporary mixed media. Nature has been a running theme of her work, which often utilizes symbols from the animal kingdom to convey hope for the future and a planet in harmony.
This year, after a four year hiatus, Sondra is rejoining the Celebration of Fine Art and reconnecting with the friends she's made here.
"I have missed being with all my artist friends and being a part of the Celebration of Fine Art family after what they did for me by donating their art for silent auction and raising money for medical bills when I was diagnosed with breast cancer," Sondra says. "I will never forget the love and support I received. It's really an amazing group of people."
Still bursting with ideas, Sondra has come full circle for this year's show with her two great loves: paint and photography. Her body of work this year leans toward abstract expressionism, which is a dramatic departure from the realism for which she's know.
"As an artist I am always looking to move forward to continue to explore different genres and mediums," Sondra says.
See more of Sondra's art here.
Favorite artist? It's probably Cezanne. He really pushed the boundaries of what was happening at the time, moving from realism to abstraction as he distilled things to their basic forms. There are so many artists that inspire me: Lee Krasner, Lee Bonticou, as well as Gerhard Richter for his willingness to dramatically change his mediums and genres.
Music/Musician that inspires you? I like to work listening to many different genres, from blues to classical music.
Favorite place to travel? I absolutely love Europe and Mexico. I am traveling to India for the first time and would like to criss-cross the world. I think you can learn a lot from different cultures and be inspired by the unknown. I hope to soon see Africa, and to experience the animals before it's too late.
Favorite Quote/Mantra? "I just decided when someone says you can't do something, do more of it." ~ Faith Ringgold
If you weren't an artist, what do you think you'd be doing? I would be happy doing interior design or something that was equally as creative. I love watching the transformation of nothing into something.