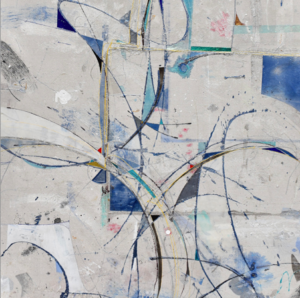 Colin Branham is a third-generation artist known for eye-catching abstract works of acrylic on canvas and wood. Influenced by both his grandfather and mother, fellow Celebration of Fine Art artist Robin Branham, Colin says travel abroad also sparks many of his ideas.
"I don't really spend a lot of time looking at art," Colin says. "But I do make an effort to go to art museums whenever I'm in a foreign city. A big inspiration for me is the process of making my art work and experimenting."
Colin's work is highly experimental and runs the gamut, with paintings that incorporate dramatic colors with sweeping lines and shapes to others more muted in tone but more intricate in detail. Rather than planning all the details of a piece in advance, he finds joy in starting from scratch and seeing which direction they take him. To keep it interesting and his style evolving, he utilizes different paints and materials so each painting has a character all its own.
Last year, Colin shared a studio space with Robin, and many visitors took delight in seeing a mother and son work so closely. But this year Colin is branching out on his own, and strengthening his artistic identity. He says the show gives him the opportunity to be surrounded by artists with different visions and techniques, and allows him the time to hone in on his own.
More than anything, Colin says the Celebration of Fine Art enables him to connect with others who love art as much as he does. If his work ends up on their walls, it makes the experience even sweeter.
Favorite artist? The illustrator Ralph Steadman. He did a lot of the illustrations that accompanied Hunter S. Thompson's work.
Music/Musician that inspires you? Early Metallica and David Bowie. Typically I listen to podcasts while working.
Favorite place to travel? I loved traveling through Eastern Europe. One day I'd like to return and go farther east through the Balkans.
Favorite Quote/Mantra? "Sometimes it's better to be a pirate than join the Navy." -Steve Jobs
If you weren't an artist, what do you think you'd be doing? Something more outdoorsy or adventurous than spending inordinate amounts of time in an a studio.