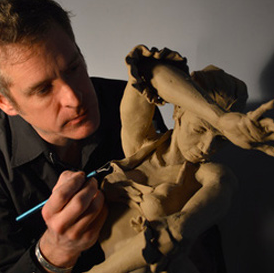 Todd Paxton is a renowned bronze sculptor celebrated for capturing the humanity and history of the subjects he creates. He is drawn to themes ranging from parenthood and honor to love and longing, and works with precision to depict stories through the subtlest of details. Whether it's the defiant tilt of a chin, the tension in a muscle or the light flutter of a garment, each element of the sculpture is carefully considered to inspire the viewer's imagination and stir their emotions.
"Every new piece is a chance to explore new ways to express and communicate the vision and important concepts I've been pondering," Todd says. 
As for what inspires him, Todd says it comes down to history, the human form and storytelling. He strives to make connections between the past and present as well as bring different human experiences together.
"My sculpture Crow Warrior is a story of the mental and spiritual preparation before a battle," he says. "In modern times, while we may not be preparing to battle another tribe, we battle through things like disease and family crisis. We all need the same resolve and preparation to face our battles." 
Like so many artists, Todd continues to press forward on his own journey with art. Over the last few years, he has experimented with sculpture size, deftly transitioning between a one-foot-tall sculpture to a 15-foot sculpture and back. Whatever the size, his quest to highlight the human connection remains.
"This year I am introducing wall art made of steel and pushing into new directions by combining my knowledge of patinas and two-dimensional Native American imagery," he says. "With my process, I love the start, the bold moves and when the spark of life comes into existence."
As he explores these new territories, Todd is looking forward to seeing how his peers at the Celebration of Fine Art are pushing boundaries of their own. He says having conversations with fellow artists about their processes and techniques is one way he continues to develop and evolve. 
"Everyone has their own unique voice and it's a joy to see how each individual artist expresses their voice," he says. "It has encouraged me to explore how I express my own voice to an audience."

Artist Quick Takes:
Favorite artist?  Eudald De Juana Gorriz, John Coleman and Nicolas Uribe
Music/musician that inspires you? Jack White because he's always pushing the envelope, Black Pistol Fire because they are minimalists yet accomplish so much, and The Gorillaz.
Favorite place to travel? I don't have much time for travel, but Lijiang, China is at the top of my list. 
Favorite quote? "Safe is good for sidewalks and swimming for pools, but life requires risk if we are to get anywhere." – Simon Sinek
If you weren't an artist, what do you think you'd be doing? A helicopter pilot.
What's one thing you'd like people to take away from your art? A sense of connection to all of humanity.